Repêchage Products and Treatments Now Available at Panico Salon & Spa!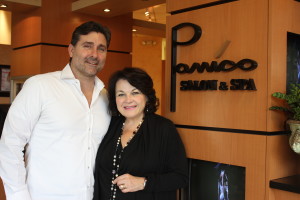 (From Left to Right: Lydia Sarfati, CEO and Founder of Repêchage,with Jack Panico, CEO and President of Panico Salon & Spa)
June 2013 – Ridgewood, NJ  Panico Salon & Spa is taking their beauty business to the next level by bringing Repêchage products and treatments to their salon to offer outstanding skincare services.
Panico Salon & Spa has been dedicated to offering the best salon and spa services to their clients for nearly 50 years. With President and CEO Jack Panico leading the way, Jack and his team have focused on offering quality and luxury to clients, making Repêchage a perfect fit. As to why he selected Repêchage Jack states, "I chose Repêchage because of their superior skincare products. I've known Lydia Sarfati for years and we share a like-minded business philosophy with our advanced, ongoing education systems."
In celebration of the introduction of Repêchage products and services, Sarfati and her team did a personal training for over 35 of the Panico staff members on location. The Repêchage Seaweed Facial Mask Treatment and Opti-Firm Eye Contour Teatment was demonstrated for the front staff and stylists by Panico esthetician Magda Wicinski. Onlookers were able to experience the treatment on their hands as well, to see the results for themselves. Lydia Sarfati, President and CEO of Repêchage, presented the idea behind the treatments, discussed Repêchage points of difference, retail tips, and gave an overview of Repêchage products.  Lydia expressed her excitement to work with Jack and his salon, stating,  "This is a great opportunity to provide the best of skincare to Jack's clients in a new and exciting way."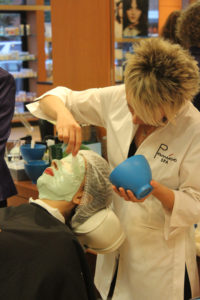 (Panico esthetician Magda Wicinski performing the Repêchage Seaweed Facial Mask Treatment)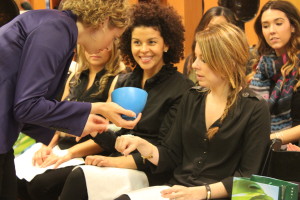 (Panico staff experiencing Repêchage Seaweed Facial Mask Treatment on their hands)
Having Repêchage products and treatments now available at the salon will not only contribute to the success of Panico, but will help the salon maintain their status as a luxurious salon and spa in the professional beauty industry. Panico will now be offering a wide range of signature Repêchage services, including the Repêchage Four Layer Facial, Seaweed Treatment Mask, and Opti-Firm Eye Contour Treatment. They will also be offering the Repêchage Facial Bar concept, an express service catered to those who are looking for a quick facial treatment.