Repêchage Joins Christie & Co. Salon Spa for a Special Mother's Day Skin Care Event!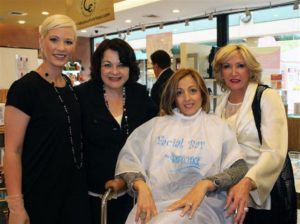 (From left to right: Repêchage Corporate Educator Lauren Streeter, Repechage CEO and Founder Lydia Sarfati, Christie & Co. client, and Christie & Co. Salon ● Spa Lois Christie)
Thursday, May 3rd, 2012- Repêchage CEO and Founder Lydia Sarfati and Repechage Corporate Educator Lauren Streeter joined Lois Christie, Owner and Founder of Christie & Co. Salon ● Spa for a special Mother's Day skin care event!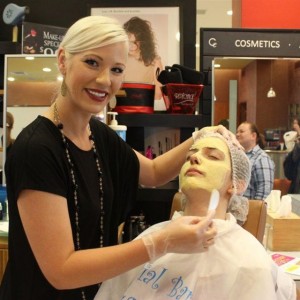 (Repêchage Corporate Educator Lauren Streeter administering a Repêchage Hydra Medic Sea Mud Perfecting Mask)
To celebrate the mothers in the area, event attendees enjoyed complimentary skin consultations as well as event only specials on Lydia Sarfati Facial Bar Concept express facial treatments. Clients happily sipped on chardonnay and nibbled on watermelon while filling out some background information about their skin before their express facial treatments. The Repêchage Facial Bar Concept by Lydia Sarfati expands the opportunity for clients to experience facial services.  Event attendees didn't need to disrobe or remove their shoes.  At The Facial Bar, clients sit upright, are draped with a cape similar to a hair service, and receive a quick conditioning or deep pore cleansing facial treatment in thirty minutes or less.
Sarfati was also showcasing the latest addition to her Facial Bar Menu, the New! Repêchage Biolight Brightening Glyco-Sea Glycolic Peel.  Taking a brief break from administering spa treatments, Sarfati presented the science behind the latest Repêchage skin care range. Repêchage Biolight includes innovative marine bio-technology and the latest in peptide research to recover skin's luster and provide a youthful luminance that lasts. It is based on a multidimensional approach to skin brightening and even toning. With the latest clinically proven ingredients, the Repêchage Biolight range helps to reduce the appearance of hyper-pigmentation due to sun damage, hormones, post-acne scarring, and certain prescription medications. Christie &Co. Salon ● Spa client's were able to learn the science behind the new range as well as ask the skin care guru about harmful and helpful cosmetic ingredients and treatments.
To top off the night of beauty, clients were able to enter themselves in a drawing including the Repêchage Biolight at-home care range as well as some items from the Repêchage Sea Spa Collection to prime the skin for the coming summer months!
For more information on Christie & Co. Salon Spa please visit www.christiesalon.com
For more information on Repêchage visit www.repechage.com  or call 1-800-248-SKIN(7546).