Repêchage Introduces the New "Sea Me Set" Serum Sampler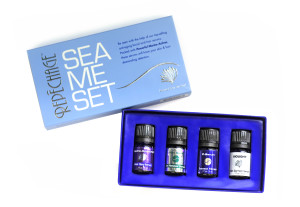 Try Me!
Just in time for the holidays, Repêchage is launching a fabulous new way to try & test some of our premier anti-aging facial and hair serums! Packed with powerful marine actives, the serums in the The Repêchage Sea Me Set will have your hair and skin demanding attention! Not sure what serum is best for your skin or hair? Give the serum set a try and find out which is right for you! The serum set includes: Repêchage Hydra-Amino18 Hair Spa Serum,  Repêchage Biolight Brightening Skin Correct Serum, Repêchage Vita Cura Cell Renewal Serum, and Repêchage C-Serum Seaweed Filtrate. With serum samples for both the skin and hair, this set is the perfect holiday gift or stocking stuffer for any beauty product lover.
Repêchage Hydra-Amino18 Hair Spa Serum is designed to restore a youthful shine to damaged hair while protecting it from styling, stress, color fading, and frizz. Select seaweed plants provide this serum with 18 amino acids that act as building blocks of protein to aid damaged strands and chemically treated hair. The 12 vitamins and 42 trace elements and minerals in this serum infuse the hair with a dramatic, youthful luster that lasts. Clinically proven actives protect the hair from weather, pollution, and UV damage while locking in  the hair's essential moisture, leaving it lustrous, smooth and protected!
Repêchage Biolight Brightening Skin Correct Serum contains three unique peptides that are clinically proven to rapidly help brighten and even skin tone due to the sun, age, acne scars and hormonal changes. Our exclusive Laminaria Complex contains select seaweeds combined with Willow Bark, Goto Kola and Licorice extracts to reveal younger looking skin and uncover a radiant, luminous complexion.
Repêchage Vita Cura Cell Renewal Serum is made of our exclusive formula for cell restoration, including Deep Sea Thermophyllus, Hyaluronic Acid, Gingko Biloba, Horsechesnut, Red Clover, and potent anti-oxidants from Green and White Teas. The key ingredient in this serum, Thermus Thermophyllus, provides powerful enzymatic protection and DNA repair. Massage this serum into the skin to promote cellular repair, improve circulation, decrease dryness, and provide protection from oxidative damage
One of our best sellers, Repêchage C-Serum Seaweed Filtrate completes the set. C-Serum, short of cytoserum, is a "multi-vitamin supplement" for the skin. It is a highly concentrated seaweed extract rich in 12 vitamins and minerals, 18 amino acids, and 42 trace elements. This serum helps to prevent dehydration, the appearance of fine lines, and return moisture to restore overall skin vitality.
Try before you buy with the Repêchage Sea Me Set!
The Sea Met Set is available on www.repechage.com.
For a spa nearest to you or to order, call toll free 1-800-248-SKIN or log onto www.repechage.com.
For a high resolution image, please contact josie@repechage.com