Repechage Honors Employees At First Annual President's Award Luncheon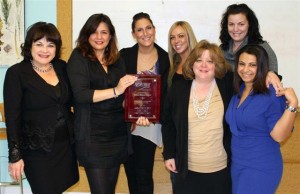 (From Left to Right: Repêchage CEO and Founder Lydia Sarfati, National Business Development Manager Susan Vindics, Account Executive Johanna Emma, Account Executive and Skincare Specialist Erin Quigley, Director of Distributor Sales Dawn Cecco, Sales Associate Jill Walker, and Sales Associate Magda Abdelrohman)
Friday, January 13, 2012 – Secaucus, NJ – After a successful 2011, Repêchage CEO and Founder Lydia Sarfati and Chief Operating Officer David Sarfati hosted a President's Award Luncheon to honor their employees.
Repêchage employees were treated to a catered lunch at their headquarters in Secaucus, NJ and were greeted by fresh white tables adorned with champagne flutes and fresh flowers.
To kick off the awards portion of the afternoon, Repêchage rookie Magda Abdelrohman was presented with the "Rising Star Award.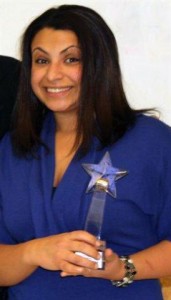 (Rising Star Award Winner Repêchage Sales Associate Magda Abdelrohman)
The Sarfati's then presented Daisy Ramos with the Repêchage President's Appreciation Award. Ms. Ramos has been with the company for over 30 years, and her dedication and hard work are unparalleled in the production department. As a testament to her dedication to the company, Daisy's daughter Sandra Medina has also joined the Repêchage family.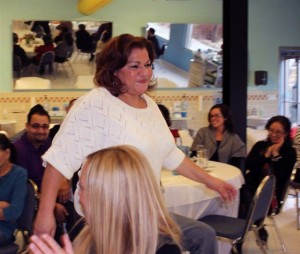 (Repêchage Production Associate Daisy Ramos)
 In 2011, Marketing Manager Michael Corradetti took on the task of spearheading the tradeshow area with much success. His hard work and dedication of over 10 years won him a Repêchage Excellence Award.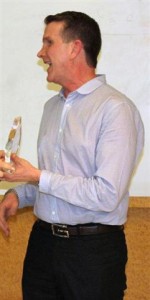 (Repêchage Marketing Manager Michael Corradetti and Director of Corporate Trade Shows)
The Sarfati's also presented Repêchage Research & Development Director Ronald Cruz with an Excellence Award for his work on the New! Repêchage Biolight Collection that launched late 2011. "The formulations are fantastic," said Lydia Sarfati, "it is just such a breakthrough line."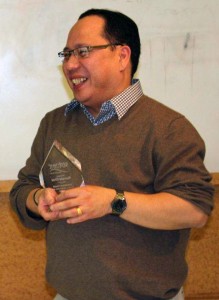 (Repêchage Research & Development Director Ronald Cruz)
And of course, Ms. Sarfati recognized the superior efforts of the Repêchage Sales Department who were able to significantly increase their sales from 2010 to 2011 by 47%. "Our team is exceptional," said Ms. Sarfati, "I really look forward to seeing what they can do in 2012." Johanna Emma was also awarded an Apple IPAD for the highest direct sales overall in 2011.
The Sarfati's also presented President's Awards to Director of Operations /Executive Assistant to COO Mary Theresa Zazzera, Dawn Cecco, Director of Distributor Sales U.S. & Canada,  Susan Vindics, National Business Development Manager, and Michelle Leiva, Warehouse & Distribution Manager. Gifted with Tiffany & Co. Crystal Plates, the winners each had their names engraved on their individual awards.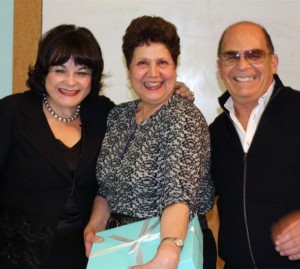 (From Left to Right: Repêchage CEO and Founder Lydia Sarfati, Director of Operations /
Executive Assistant to COO Mary Theresa Zazzera, and Chief Operating Officer David Sarfati)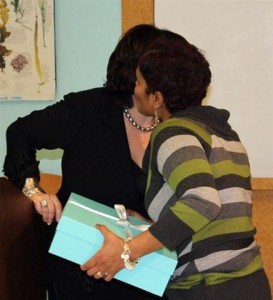 (From Left to Right: Repêchage CEO and Founder Lydia Sarfati and Warehouse & Distribution Manager Michelle Leiva)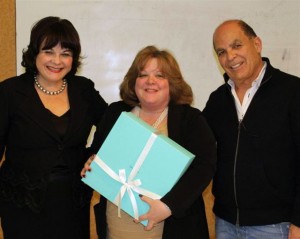 (From Left to Right: Repêchage CEO and Founder Lydia Sarfati, Director of Distributor Sales Dawn Cecco and Chief Operating Officer David Sarfati)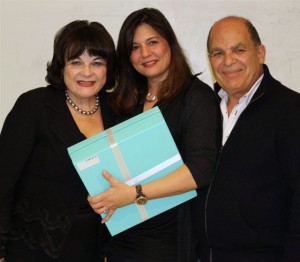 (From Left to Right: Repêchage CEO and Founder Lydia Sarfati, National Business Development Manager Susan Vindics and Chief Operating Officer David Sarfati)
""It is so important to give credit where it is due", said Ms. Sarfati, "I am truly blessed to have such a fantastic team, and I am happy to give back to them every chance I get."
For a spa nearest you or to order, call toll free 1-800-248-SKIN or log onto www.repechage.com