Repêchage Facial Bar Delivers! Vito Mazza Salon & Spa Enjoys Sales Increase Through the Second Quarter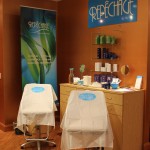 (The Facial Bar at Vito Mazza Salon & Spa)
Woodbridge, NJ – Vito Mazza Salon & Spa has been gaining client accolades so far this year for offering Repêchage Professional treatments & products, and the appreciation has shown in sales number, with increases in all areas of sales since January 2013.
Vito Mazza Salon & Spa is attributing the increase in services to the superior quality of Repêchage products and treatments. "The reason for the increase in service is simply the integrity of the products. Client's love how their skin looks and feels after a service and are more inclined to join our wellness series. We are finding that clients are focusing more on the commitment to the professional treatment for better skin health," said Christie Citsay, Spa Director, Vito Mazza Salon & Spa. The salon has put several initiatives in place to support the Repêchage skincare lines, one being a wellness series in which clients can purchase five facials and get the sixth free or they can pay monthly for the five facials over six months.
In addition to the wellness series, Vito Mazza Salon & Spa recently introduced the Repêchage Facial Bar Concept into the salon, in which clients are able to receive a quick rejuvenating facial treatment in 30-minutes or less. According to Citsay, bringing this offering into the salon has lead to the increase in product sales from services, "Sales that are made after treatments have definitely gone up because of the Facial Bar, we are providing skin analysis and having conversations about skin health with clients while their hair color is processing, it is creating a one stop shop for them."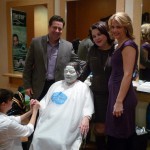 (From left to right: Vito Mazza Jr., President of Vito Mazza Salon & Spa, Lydia Sarfati, CEO and Founder of Repechage and Ann Mazza, Events Coordinator Vito Mazza Salon & Spa with a client receiving a Facial Bar treatment)
The Facial Bar has become so popular that Vito Mazza Salon & Spa has hired two additional estheticians, Jennifer Zimmerman and Katrina Gutierrez, to provide their expertise to salon clients and take the Facial Bar stations to the next level. Being an avid devotee to the world of beauty since a young age, Zimmerman attended Capri Institute's esthetics program and has spent her time educating her clients on the importance of maintaining healthy skin care practices ever since. She has a strong desire to help each client learn how to provide the proper care to their skin and look their best. Gutierrez, also a Capri Institute graduate, is driven to solve her client's skincare concerns so they can achieve the skin they have always sought after. She finds it truly rewarding to provide customers with the best tools to achieve healthy, youthful and vibrant skin for a lifetime. "Our new hires are both talented and outgoing – the perfect fit for our busy salon floor!" said Citsay.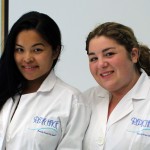 (From left to right: Katrina Gutierrez and Jennifer Zimmerman, Vito Mazza Salon & Spa's new Facial Bar estheticians)
To coincide with Vito Mazza Salon & Spa's support, Repêchage has equipped their team with the tools they need to confidently perform treatments and sell products, which has helped increase floor sales. Repêchage often has professional educators visit the Vito Mazza Salon & Spa location in Woodridge, NJ to provide the latest training in their skincare services. Along with education, once a month Repêchage skin care specialists join forces with Vito Mazza Salon & Spa staff for Fabulous Fridays, which are on-site skincare events that provide customers with a personalized skin care analysis and recommended skincare regimen from the salon team as well as Repêchage Corporate Educator, Lauren Streeter. Repêchage also frequently provides marketing pieces that have assisted the Vito Mazza Salon & Spa team in building visual displays that grab customer attention. "Our displays tell a story to our clients and they identify with their needs. With informative product descriptions that are backed by the promised results, the retail items are practically selling themselves," continued Citsay.
Given Christie Citsay 's strong expertise in sales, she will be an industry panel expert at the upcoming Repêchage 15th International Congress for Salon and Spa Professionals on July 29th in New York. She will be sharing the tools that her team utilizes at Vito Mazza Salon & Spa to meet and exceed quarterly sales goals.
All the support that the Repêchage team provides to Vito Mazza Salon & Spa has resulted in a 12% increase in service and 43% overall retail increase in the first quarter.