Repêchage Continues to Flourish in India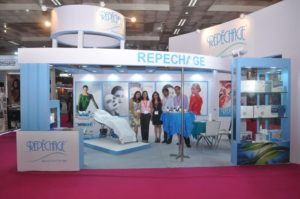 (J B Skin Care Pvt. Ltd team at Repêchage Booth at Professional Beauty Show, New Delhi)

September 2 -3, 2013 – New Delhi, India – Big, bright and right in front Repêchage® professional skin care stole the show at the Professional Beauty Show.  Show goers jumped at the opportunity to see the latest offerings from the American skin care brand.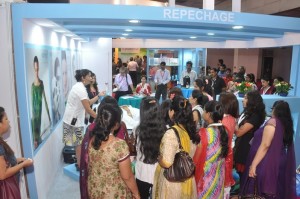 (J B Skin Care Educator Arpita Das demonstrating the Repêchage Biolight Brightening Miracle Facial with Glyco-Sea® Glycolic Peel)
Spa and Salon professionals got a peak at the latest skincare products and spa services which will be available at salons and spas throughout India. Repêchage demonstrated the award winning Biolight Miracle Facial with Glyco-Sea Glycolic Peel and the Biolight Beyond Brightening At-Home Care Products. Repêchage Biolight is the latest in skin brightening science with innovative marine biotechnology.
Repêchage is exclusively distributed in India by J B Skin Care Pvt. Ltd. The ongoing goal of the partnership is to deliver serious skin care, but also to provide educational and business support to spas and resorts throughout the country. "In India, we are adopting a multi-channel marketing strategy that has helped Repechage to become a leading skincare brand in the country. Participating in industry trade shows like Professional Beauty is an important aspect of our overall strategy" said Bikram Sapra
Managing Director – JB Skincare Pvt Ltd of attending the Professional Beauty Show. J B Skin Care Pvt. Ltd will continue to showcase Repêchage at trade shows throughout the country to continue brand awareness.
For additional info and details about J B Skin Care Pvt. Ltd Co-Founder, please email Bikram Sapra at sapraintl@gmail.com
For more information on Repêchage go to www.repechage.com or call 1800-248-SKIN.