Repêchage CEO and Founder Lydia Sarfati Hosts the 2016 Repêchage 3-Day Master Class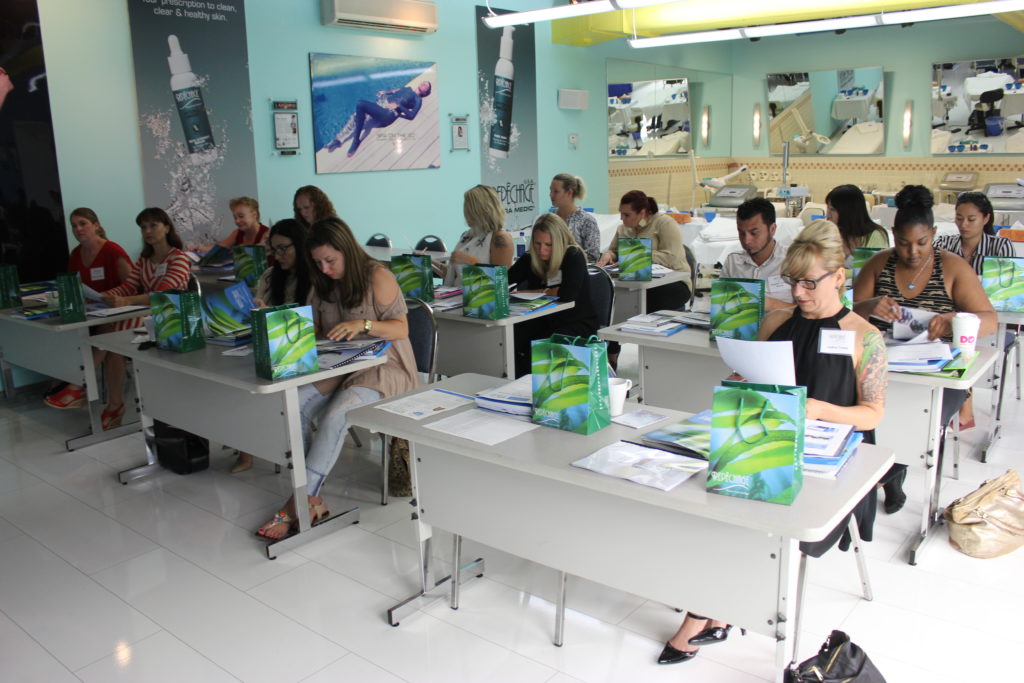 July 11-13, Secaucus, NJ – Estheticians from around the United States traveled to Secaucus, NJ to learn from the master of esthetics herself – Repêchage CEO and Founder, Lydia Sarfati! Seasoned estheticians, students and spa owners mastered the tools they need to achieve skin care excellence and spa success, and were introduced to the new Repêchage FUSION Express Bar and Spa Masks professional treatment as well as the new all-natural FUSION at-home products. 
Over the course of three days, attendees were exposed to a range of skin care knowledge and topics through lecture, demonstrations and hands-on training. Day 1 of this year's class included the presentation "What's in the Jar", where the scientific function of key Repêchage ingredients was presented to attendees, along with the science behind the new Fusion Express Bar and Spa Mask treatments and at-home products. The second day was dedicated to facial massage and understanding different massage techniques and modalities for different skin types, including Classic, Lymph and Shiatsu massage, the exclusive Repêchage Silver Ball Massage technique for sensitive skin and rosacea, as well as Kansa Wand specialty massage. Day 3 of Sarfati's Master Class was dedicated to problem and acne skin solutions, as well as the Repêchage Waxing is Relaxing™ concept designed to transform waxing services into an enjoyable spa experience. Sarfati also presented spa business tips for attendees, including tips to increase retail sales, how to market spa services to different generations, and innovative ways to market services at the spa.
"Master Class is an event that I look forward to each year. It is extremely rewarding to work with others who are passionate about skin care, and provide them with an outlet for education. I am a firm believer that knowledge is power, and that a combination of passion, hard work, and education creates a thriving career.  I consider it an honor and a huge responsibility to give estheticians the tools they need to improve their lives." – Lydia Sarfati, Repêchage CEO and Founder
For more information on Repêchage® visit www.repechage.com or call 1-800-248-SKIN (7546).
For high resolution images, please contact Josie@repechage.com