Philip Douglas Salon Becomes A Repêchage Spa de Beauté – A Repêchage Concept Spa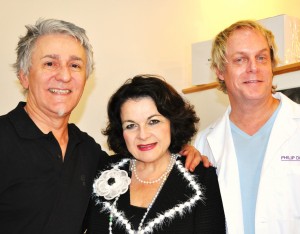 (From Left to Right: Philip Douglas, Lydia Sarfati, and Doug Wilson)
Wednesday, October 19, 2011 – Naples, FL – Repêchage CEO and Founder Lydia Sarfati has partnered with Owner and Founder Philip Douglas of Philip Douglas Salon to become a Repêchage Spa de Beauté, a Repêchage Concept Spa.  The team launched the latest in skin brightening science with the New! Repêchage Biolight Miracle Facial with Glyco-Sea Glycolic Peel as well as the New! Repêchage Biolight Brightening At-Home Care Products to celebrate the union.
Douglas welcomed Sarfati and the public to a champagne brunch at La Lafayette Restaurant, and an open house with skin consultations at Philip Douglas Salon. A percentage of sales from the open house event went to benefit the Bosom Buddies Breast Cancer Foundation.
Philip Douglas Salon is a full service salon located in the heart of Naples, FL providing exceptional hair and makeup. Douglas is excited to become the only spa in the area that carries Repêchage for their skincare services. "I am delighted to be able to bring Repechage to Naples. I admire Lydia Sarfati tremendously and am excited about our partnership. The Repechage products are outstanding and the services are state of the art with visible results…which is the true benchmark of quality for me and my discerning clientele" said Douglas of the merger. Douglas has made appearances in Bloomingdales flagship NYC store as a cosmetic national beauty expert and has had numerous guest film appearances on Designing Spaces Beauty Spaces, airing on the Style and Home & Garden channels.
Sarfati is ecstatic to work with this industry veteran as well, "Philip Douglas is a renowned makeup artist extraordinaire. He understands the needs of his clientele and his professionalism and passion in providing excellent services match that of Repêchage. We are very pleased and proud to be associated with the best of Naples and we welcome Philip Douglas Salon in becoming a Repêchage Spa de Beauté".
Repêchage® will be offered at Philip Douglas Salon. For additional information or to book an appointment call 239-643-0233.
For more information about the Bosom Buddies Breast Cancer Foundation, please visit http://www.bosombuddies.org/.
For more information on Repêchage visit www.repechage.com or call 1-800-248-SKIN(7546).