Out of the Red – Addressing Rosacea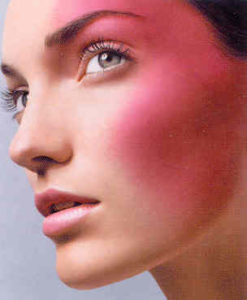 (Photo Credit: www.ultimatebridalmag.com)
No need to blush, if your clients need help getting "out of the red" you should be equipped to help them! I'm of course talking about Rosacea. Rosacea is estimated to affect more than 16 million Americans[1] and as a salon and spa professional you should note that April is Rosacea Awareness Month!
Our skin, the largest organ in the human body, has a remarkable multifunctional capacity to not only maintain our internal environment but to interact with environmental stimuli such as microbes, chemicals and physical factors. However, any of these environmental stimuli may evoke a cutaneous reaction of the skin leading to dermatitis, an inflammation of the skin. Even a spicy meal or a cocktail could trigger your clients with sensitive skin to have a reaction.
Rosacea is a form of dermatitis. This skin condition was originally called acne rosacea, which should never be used to describe this skin condition. Rosacea is sometimes confused with acne and may even coexist with this disease, but they are not the same. Rosacea evolves in stages, the early signs are recurrent episodes of blushing which finally becomes persistent dark red erythema, particularly on the nose and cheeks, often before the age of 20.  Rosacea is often found in men and women in their 30s and 40s, usually peaking in the 40s and 50s.  As a professional, you need to be sure that you are properly diagnosing your client's skin so that you can effectively treat it.
So, what can we do for clients with sensitive skin? Get your client's into the spa for a gentle facial treatment to help calm, soothe and protect stressed-out skin while helping to decrease skin sensitivity. Be sure not to over manipulate the skin during the treatment and do not use manual exfoliators or steam as they could further irritate the skin. If your client's skin needs exfoliatation, use a gentle enzymatic facial peel.  This is the time to help your client and your client's skin relax.
Cleanse: A gentle cleanser should be used that is designed to remove debris & makeup while protecting the skin. An olive leaf, olive oil and seaweed formula helps calm reactive skin.
Tone: Alcohol-free blend of fresh seaweed and olive leaf extracts help balance & soothe sensitive skin.
Massage: Seaweed serum should be massaged using gentle effleurage movements.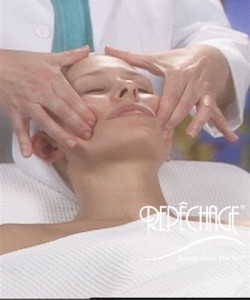 Mask: A super anti-oxidant formula soothes, calms & restores a youthful appearance to skin. This also helps to prevent blotchiness & excessive dryness.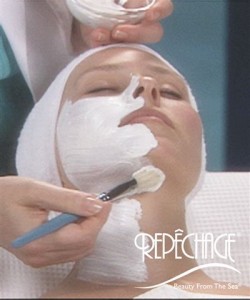 Moisturize: A lightly whipped formula helps protect against daily damage & prevent dehydration. It also helps to increase skin elasticity & reduce the appearance of fine lines by maintaining essential moisture.
Optional: Upgrade with seaweed facial mask for further calming.
Send your clients home with a comprehensive facial regime to help them maintain calm skin in-between treatments. We can optimize the barrier function of the skin by boosting the skin's own protective lipids by adding fatty acids, ceramides, linoleic acid and phospholipids. In addition, heavy doses of anti-oxidants and botanicals that fight off environmental assaults help protect the skin. A soothing daily moisturizer with seaweed and olive oil and leaf extracts helps protect skin against environmental aggressors and other free radical damage is a great addition to your sensitive skinned client's repertoire.  Your clients will also love a soothing toner in travel size. This way, your client's won't have to miss out on a night out because of sensitive skin! They can just stash it in their bag for quick relief of redness, burning, tightness, and blotchiness from alcohol or spicy food.
Do you have a lot of client's with sensitive skin? Was it hard to recognize they had Rosacea? Tell me in the comments below!
---
[1]
"Awareness Month in April." 
Rosacea.org
. N.p., 02 02 2012. Web. 4 Apr. 2012. <http://www.rosacea.org/weblog/2012/02/02/awareness_month_in_april_4/index.php>.