Oasys Day Spa Shows Their Team Spirit – Repêchage Skincare Event Will Be Held To Raise Money For Local Cheerleading Team!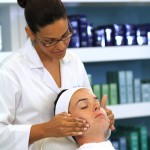 (Oasys Day Spa Owner, Lisa Dominquez, performing a Facial Bar express treatment)
June 6, 2013 – Wood-Ridge, NJ – Now 5 years in business, Oasys Day Spa has continually combined their passion for skincare and charity to raise money for numerous worthy causes. Their latest project hits close to home, as they will be hosting a special Repêchage skincare event to help support the local East Coast Premier All Stars Cheerleading team.
Since opening their doors in 2008, Oasys has put their skincare expertise to use through fundraising, usually holding 3 charitable events per year. "I decided to pick this cause because Oasys has never done a fundraiser for anyone directly in our town. The cheerleading team is a positive organization and they need supplies that they can't get from their school. We really want to be more involved with our local community and help those that we are able to," Oasys Day Spa Owner, Lisa Dominquez. Oasys has also supported breast cancer and domestic violence organizations at past events.
On Thursday, June 6th from 4:00pm – 8:00pm Oasys Day Spa will be donating $5 to the cheerleading team for each event service purchased. Event treatments include the Repêchage Biolight™ Brightening Glyco-Sea Glycolic Peel, Vita Cura® Enzymatic Micro Peel, Hydra Medic® Deep Pore Cleansing Mask, Anti-Aging Hand Treatment, Mineral Make-up Application, and chair massages. In the spirit of giving back, all event guests will receive a complimentary travel size Repêchage Sea Spa Hand Cream! For a chance to get even more fantastic products, the spa will be holding a raffle for a luxe Repêchage skincare basket!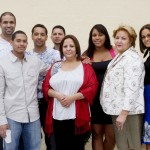 (Oasys Day Spa staff)
Guests that attend this event will be treated to the modern and welcoming environment offered by Oasys Day Spa. The staff prides themselves on creating a relaxed environment and satisfying the specific needs of each customer. In addition to the treatments available at the event, the spa specialties include Repêchage professional skincare, using their 5 treatment rooms as well the Facial Bar, body treatments, make-up applications, massage therapy, and hair removal.
Reserve your appointment today and get beautiful skin while giving back!
RSVP to (201) 728-4212 or info@oasys-dayspa.com and to find out more about Oasys Day Spa visit their website at www.oasys-dayspa.com