New Year's Resolutions for 2013
I can't believe it is already 2013, it seems like I was just writing my New Year's resolutions for 2012!  As I was looking over last year's resolutions, I realized that I did a pretty good job at achieving my goals! I spent more time with my family and my husband David and even took more vacations (you can see a picture from our family trip to St. Martin below!). Professionally I had a fantastic year as well, at Repêchage® we launched a new hair spa line, Hydra-Amino18®, celebrated another successful Congress and we are working on expanding our inside sales team for an even more productive 2013. Overall, 2012 was a wonderful year and I am sad to see it go, but look forward to what 2013 will bring.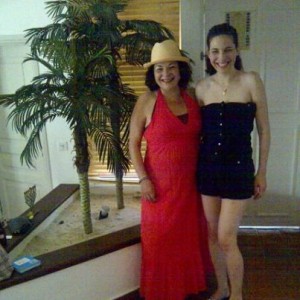 (Shiri and I getting ready for the beach!)
Even with such a great year, I believe there is always room for improvement. Here are my goals and resolutions for 2013:
1.) Open up more Facial Bars nationwide and around the world.
Professionally, I am dedicated to making 2013 the year of the Facial Bar. This evolution of spa services has been such a success already and I want to spread the word to more salon and spa owners so they can see the difference in their bottom line as well. I am so dedicated to making this dream a reality that I will be giving away a FREE Facial Bar Chair by Lydia Sarfati with opening orders for Facial Bar (see my ad in Launchpad Magazine's January issue for more details). I am confident that once a salon starts with these express treatments, they won't be able to stop!
2.) Help estheticians become more successful financially.
It has always been a priority of mine to make sure that being an esthetician means having a financially stable and successful career. I am a true believe that when done the right way, you can be the one to bring home the bacon! That is why this year, I have added more Master classes to the Lydia Sarfati Post-Graduate Academy Skincare Academy schedule. I hope that you all can join me for the classes so that I can share what I have learned as an esthetician and business woman for a more profitable 2013!
3.) Spend more time with family.
I know I said I did a good job in 2012 spending more time with my family, but in 2013 I want to do even better! I really want to continue to make an effort to spend more time with my husband, my children and my grand children. I love them all so much and I just can't get enough of them!
With these goals in place, I hope to have my best year yet! What are your resolutions for 2013? Tell me in the comments below!