New Spa Treatment I Love – Tahitian Getaway Massage at Vitomazza Salon & Spa
I love that I am able to see my treatments and products become a reality, but what is even more fun is seeing how my client's put their own signature on my treatments to make them their own. I want to share with you this wonderful treatment from Vito Mazza Salon & Spa in Woodbridge New Jersey– The Tahitian Getaway Massage. In just 75 minutes, they take their clients on a sensorial vacation!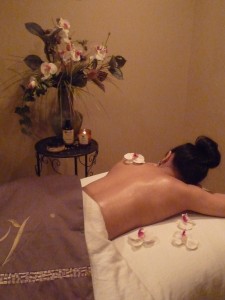 The ritual begins with warm Kanshi Naturally Healing Massage Oil  formulated with coconut, soybean and sesame oil drizzled on the back to introduce the massage.  Then clients receive a relaxing second massage with Kanshi Moisturizing Body Lotion rich in anti-oxidant-rich Palm Oil, Cocoa and Mango Butters helps to release tension. Here is where they added a twist, during the second massage they strategically use heated, orange scented herbal packs to melt away muscle stress and tension.
After the two massages clients experience a delicious exfoliating foot scrub, the Kanshi Salted Coconut Body Scrub, with sweet coconut,  sea salts and coconut shell leaving feet feeling renewed and smooth. Feet are then cleansed and dried with warm orange-scented towels. The treatment finishes with an invigorating mist of the mint-infused Kanshi Instantly Refreshing Foot Spray.
The reason why I love this treatment so much is because their clients are really getting a true 75 minutes vacation! From the smells, to the feel of the products, to the strength of the massages, their clients stress is being melted away and they are provided with a sense of renewal.
How do you customize your spa treatments? Tell me in the comments below!