Creating a Facial for Father's Day >> Mens Grooming Products & Tips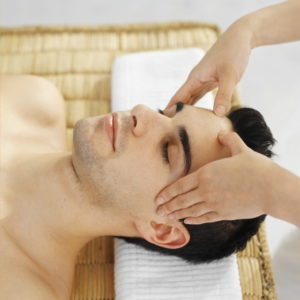 With more men seeking out professional skincare services, spas and salons across the country are scrambling to create treatments targeting the male client. To be successful in capturing the male client, it is essential to offer a menu that is inviting and appealing to him. In the male eye, that means having the word "man" somewhere in the title. All men reading a spa's Menu of Service contemplating whether or not to bite are looking for one thing; a treatment designed especially for him.
A men's facial treatment needs to address his concerns. Men are plagued with larger pores and sebaceous glands. Their skin tends to be characterized by excess oil and blackheads. At the same time, men are often dehydrated from the soaps and shampoos they use and the hot showers they take. They typically drink a lot of coffee, sodas and alcohol, and smoke cigars and cigarettes; all habits that promote dehydration. Men are confused as to what skin type they have because they are excessively oily and have surface dryness. Men need a treatment that is both hydrating and deep pore cleansing that balances oil.
The number one skin complaint we hear from our male clients is razor burn. Men tend to have sensitive skin that they have mistreated for years. The facial room is the time to teach him how to shave properly and protect against razor burn. The esthetician that helps him win the war against razor burn is an esthetician with a loyal client.
Men are also concerned with aging. They have hyperpigmentation from years of working in the yard and playing golf without sunscreen. They have crow's feet and dark under-eye circles from squinting at computer screens and working late hours. The Baby Boomer man is being confronted with middle age and is being threatened by perky Gen-Xers trying to steal their jobs. A man's appearance is more important to him than ever.
Advancing age not only brings unwanted lines and liver spots, but unwanted hair seems to be growing everywhere! Ear, nose and eyebrows sprout unruly hairs. Basic grooming and hair removal is a must during a male facial treatment. He'll be so impressed that he has two eyebrows and clean ears, he'll come back just for that!
It is important to choose products that cater to the male client and his skin needs. First, avoid using perfumed and fragrant products in the facial room. He may already be apprehensive about having a facial and "women's" products will ensure he won't be a repeat client. Keep the service as clean and simple as possible. Look for ingredients such as seaweed that offer hydration, anti-aging, antibacterial and oil control at the same time. Other important ingredients to look for are those such as cucumber, lavender, and azulene that calm and soothe inflamed skin. Men do not want to walk out your door with red, blotchy skin caused by an aggressive extraction session. You might as well put a red, flashing neon sign around his neck announcing, "I just spent the last hour getting a facial at my wife's salon!" Certainly, not the message our male clients want to send to their buddies at Friday night's poker game.
The men's grooming facial should not last more than one hour. I suggest charging at least $75, but charge according to your area. Like with all services, do not undersell yourself! Your time is valuable and the service you are providing is important.
Men's Grooming Treatment
** I recommend Repêchage® Hydra Refine® Products based on Laminaria Saccharina Seaweed, Lemongrass, Farnesol (an anti-bacterial derivative of Lily of the Valley and Cucumber.
•Drape the client and sanitize your hands. Make sure the bedding is white. Pink or flowery sheets are not male-friendly. It is also crucial to have a facial bed at least 75 inches long so your client's feet aren't dangling over the edge.
•Analyze your client's skin. Diagnose and discuss findings and treatment objective. This is the time to ask him to show you how he shaves. Instruct him on proper technique.
•Begin by waxing of the earlobes, eyebrows and by trimming of the nose hair if needed. Use a small wax applicator for all facial waxings and use an electric trimmer for nose and earlobe trimming.
•After facial hair removal, apply astringent. Optional: use cold sea stones on areas that that were waxed such as eyebrows to reduce inflammation.
•Apply cleanser in circular, upward movement on the face and downward on the neck area. Optional: an electric brush may be used.
•Repeat, if necessary. Apply eye pads.
•Apply astringent. Optional: Use spray.
•Use a steam with ozone or infusion. Leave the steam on for ten minutes. During this steaming procedure, administer massage using non-occlusive massage cream.
•Turn off the steam and pat the skin dry.
•Wrap fingers in tissue or wear latex or vinyl gloves. Proceed with extraction, if necessary. Do not exceed ten minutes. If, after ten minutes, any more extraction is needed, it will have to wait until the next facial.
•After extraction, spray or pat on astringent.
•Apply pore perfecting serum. Optional: use cold Sea Stones for massaging in through acupressure.
•Use high frequency 3-5 minutes.
•Apply clarifying mask. Leave it on ten minutes. Apply cotton or gauze mask.  Optional: place cold Sea Stones on the top. Administer hand massage using hand cream.
•If applicable, remove the Sea Stones.
•Remove the mask with wet cotton and dry it thoroughly by buffing the skin with dry cotton.
•Apply hydrating and pore perfecting serum to the face. Apply eye gel around the eye area.
•Offer your client a glass of water and proceed with at-home recommendation.