Lydia Sarfati Presents at the 62nd CIDESCO World Congress in Athens, Greece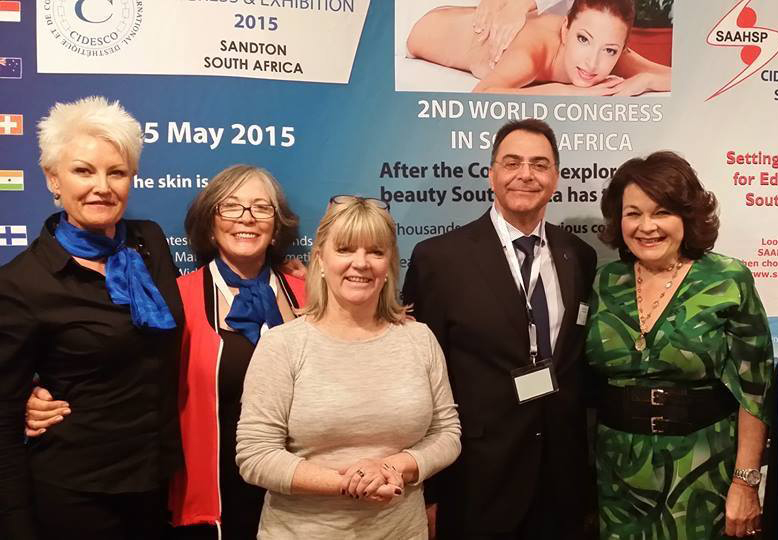 (Menna Kleine – CIDESCO South Africa, Helene Weber-Bromwell – CIDESCO South Africa, Dianne Miles –  CIDESCO Australia, Kyriacos Poupoutisis – CIDESCO Cyprus, Lydia Sarfati – CIDESCO USA)
October 23-26, 2014 – Lydia Sarfati, CEO and Founder of Repêchage, traveled to Athens, Greece, for the 3-day 62nd CIDESCO World Congress event. Sarfati is Honorary Chairman for CIDESCO USA, the world's major international beauty therapy association, and was there to show support for the organization and share her industry knowledge with attendees.
Sarfati presented "Anti-Aging from the Neck Down" for event attendees, which includes members from the 30 countries that hold CIDESCO sections, and the 230+ schools that teach CIDESCO standards. In today's world clients are becoming more conscious of body aging, and anti-aging treatments are at an all-time high. Sarfati addressed the common concerns associated with skin aging including hyperpigmentation, and loss of elasticity on the skin. Sarfati provided a live demonstration of full body customization to target all skin concerns from cellulite and firming needs to hydration, full skin luminosity and a more youthful appearance.
Lydia Sarfati and CIDESCO continue to educate estheticians and skin care professionals across the globe. Her next classes will be at IESCSC Florida (November 9, 2014 – November 10, 2014).
For more information about CIDESCO please visit: www.cidesco.com
For more information on Repêchage please visit www.repechage.com
For high resolution images, please contact josie@repechage.com