Lydia Sarfati Inspires Students at Capri Cosmetology in Nanuet, NY!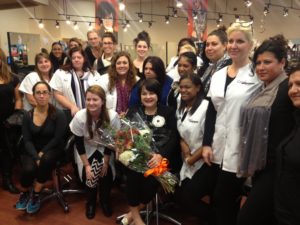 October 2013 – Nanuet, NY Repêchage CEO and Founder Lydia Sarfati inspired and celebrated at the Capri Cosmetology Learning Center in Nanuet, NY! Greeted by students with a welcome sign and flowers, Sarfati visited the school for an inspirational presentation to celebrate the launch of her Facial Bar Concept into their curriculum.
Sarfati spoke to students and opened with her story of how she was able to achieve success in the professional beauty industry. Lydia shared her success and struggles and how she was able to turn Repêchage into the worldwide skincare and beauty company that it is today. She then provided insight on how the Capri students could build their own success stories with the Facial Bar concept.
The Repêchage Facial Bar is an innovative concept, created by Lydia, as a way to offer quick spa services that still deliver the feel of a full spa treatment. According to Lydia Sarfati, "In today's day in age, people do not always have the time to spend a full day at the spa. The Facial Bar helps book backroom treatments and increases retail sales to bring increased revenue to the spa." The Facial Bar concept and protocols will now be incorporated into the curriculum for all students at Capri, so they can gain a diverse skill set as professional estheticians. In order to be successful, new beauty pros will have to redefine what "spa" means.
Sarfati continues to strive to be innovative, and deliver the best quality products and treatments to estheticians, salon owners, and consumers world-wide.