Lydia Sarfati Inspires Future Beauty Professionals at Tricoci University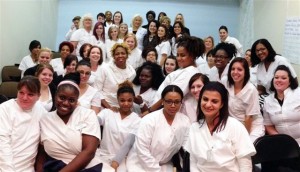 (Repêchage CEO and Founder Lydia Sarfati with Tricoci University of Beauty Culture Students)
November 13th-14th, 2012 – Chicago, IL –  Lydia Sarfati, Repêchage® CEO and Founder was invited to speak to future professionals at two Tricoci University of Beauty Culture campuses in theChicago area. Sarfati presented an inspirational as well as technical demonstrations to the Harlem andRockford campuses providing Tricoci students with the tools they will need to succeed after graduation.
"The class that Lydia presented to the Tricoci University students was wonderful!  The knowledge that she imparted to the students about not only Repêchage but also how to succeed in this business was invaluable!  The students left the class feeling inspired and motivated as well as with a renewed passion for the industry that they have chosen" said Gabriela Santana-Blackburn, Executive Director of Esthetics and Teacher Training at Tricoci University of Beauty Culture.
Sarfati took the students through her career, how she started out in the beauty business and how that career transformed into a world-wide professional skin care company, sharing the secrets of her success with the bright-eyed audience. "The students already know why they are becoming estheticians, we are passionate by nature. What they need are the tools to succeed; skills, products that work and business know-how to launch their careers after gradation" noted Sarfati. She concluded her presentation with a demonstration of the iconic Repêchage®  Four Layer® Facial, the treatment that took Sarfati from respected esthetician to world renowned industry expert.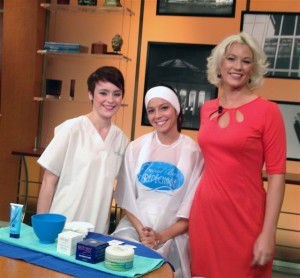 (That's Lauren in the red!)
Sarfati did not travel alone! She was accompanied by Lauren Streeter, Repêchage® Corporate Educator who after visiting the campuses hopped over to Chicago's WGN Midday News studio where she was featured in a segment "How to Cook Up Your Own DIY Spa Treatments in the Kitchen!" Streeter walked viewers through three DIY spa treatments out of Sarfati's spa cookbook – an oatmeal mask, black tea eye pads, and a hand/body salt scrub. The segment also featured Repêchage's Honey Almond Scrub, Eye Rescue Pads, Sea Spa Glow and Sea Spa Hand Cream.
For more information about Repechage, please visit www.repechage.com
For more information about Tricoci University of Beauty Culture, please visit www.tricociuniversity.com/
To see Lauren Streeter's TV segment, please visit http://www.wgntv.com/news/middaynews/middayfix/wgntv-midday-fix-diy-spa-treatment-20121113,0,2612103.story