Lydia Sarfati Brings New Beauty to Poland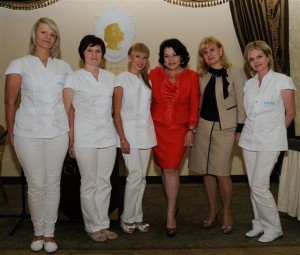 (Repêchage CEO and Founder Lydia Sarfati with Estheticians at the Hotel Chopin)
September 2011 – Lydia Sarfati, Repêchage CEO and Founder, travelled to Poland for the launch of Repêchage in the spa at The Hotel Chopin as well as the reveal of the latest in skincare brightening technology, Repêchage Biolight.
On September 2nd, 2011 over 100 people gathered at The Hotel Chopin for a music soiree to celebrate the exclusive use of Repêchage in the hotel's spa. The event included live music by professional cellist Ian Maksin and professional violinist David Lisker. Sarfati, who was born in Legnica, Poland, did a presentation about her life and how she came to be the CEO and Founder of Repêchage.  Sarfati was followed by a presentation on skin issues by Polish dermatologist Dr. Mirostaw Mackowiak. "The entire event was extremely well received," said Sarfati of the celebration, "I look forward to a long relationship with the Hotel Chopin."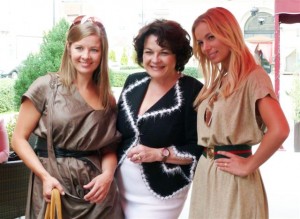 (Repêchage CEO and Founder Lydia Sarfati with Polish Celebrities)
On September 5th, 2011 – Warsaw Poland- Sarfati revealed the breakthrough skincare science behind the new range as well as a special demonstration of the New! Repêchage Biolight Miracle Facial with Glyco-Sea Glycolic Peel at a press event at Nowa la Bohème restaurant. Polish Dermatologist Malgorzata Gaworczyk also presented at the event.  Joining the press at the event were Polish celebrities Anna Powierza (an actress – the star of very popular Polish TV series "KLAN") and  Izabella Janachowska (a dancer – a star of polish edition of Dancing with the Stars), who came to the event to learn about the new skin brightening science.
"This was very special to me to be able to present my new collection to Poland myself," said Sarfati of her time spent in Poland, "I had a fabulous time and I hope I will be able to return soon."
Repêchage® is offered at top spas and resorts around the world. To locate a spa nearest you or to purchase online, log onto www.repechage.com or call 1-800-248-SKIN(7546).
For more information or high resolution images please contact Brady@repechage.com.