Lydia Sarfati Attends America's Beauty Show to Brighten Chicago!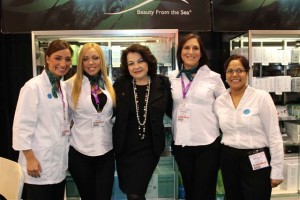 (From left to right: Repêchage Educator Stacy Williams, Repêchage Account Executive and Skin Care Specialist Erin Quigley, Repêchage CEO and Founder Lydia Sarfati, Repêchage Account Executive Johanna Emma and Repêchage Warehouse & Distribution Manager Michelle Leiva)
March 3-5, 2012 – Chicago, IL – Lydia Sarfati, Repêchage CEO and Founder, brightened up America's Beauty Show with her Repêchage team! Introducing the latest in skin care trends as well as the New! Repêchage Biolight Collection, the skin care industry veterans were the "brightest" booth!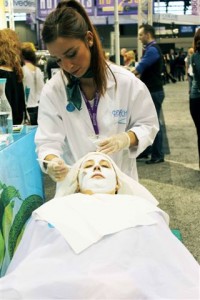 (Repêchage Educator Stacy Williams administering the Signature Repêchage Hydra Dew® Express Lift Facial)
Booth #3625 was set up as a mini spa equipped with Repêchage professional skin care treatments, retail items and Sarfati's signature Facial Bar Concept which allowed show goers to receive professional spa treatments in 30 minutes or less. "Beauty does not stop at the hairline", said Sarfati, "Beauty is all encompassing, it includes hair, skin and nails and beauty professionals need to provide their clients with the full package.  The Facial Bar Concept is the perfect way to allow your client's to get all of the services they are looking for in a minimum amount of time.
Spa and Salon professionals got a peak at the latest skincare products and spa services that are available at salons and spas nationwide. Repêchage also debuted the New! Repêchage Biolight Miracle Facial with Glyco-Sea Glycolic Peel and the Biolight Beyond Brightening At-Home Care Products. Repêchage Biolight is the latest in skin brightening science with innovative marine biotechnology. This revolutionary new professional treatment and product line is a natural and effective method to help treat and help prevent hyper-pigmentation for brighter, more radiant skin. Show-goers left the booth with signature Repêchage seaweed bags in tow!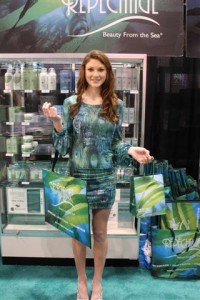 America's Beauty Show also marked the re-launch of Repêchage with Beauty Systems Group (BSG). VIP BSG show goers were able to find Repêchage products and services in an elite showroom. The beauty supplies distributor operates company-owned CosmoProf stores open only to the beauty trade. The company also supplies Armstrong McCall shops, and distributes products directly to salons through a sales force of professional consultants. "Repechage has had a long standing relationship with BSG. I am excited to reach out to all the salons and spas in their territories and share the Repechage concept and business opportunities with them to help their team achieve profits in the skin care category" said Susan Vindics, Repêchage National Business Development Managerof the re-launch, "I am excited to see what this partnership will bring to both Repêchage and BSG."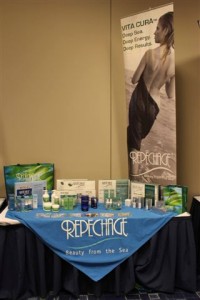 For more information about the brightest exhibitor at America's Beauty Show, visit www.Repechage.com or call 1.800.248.SKIN!