Let Me Upgrade You!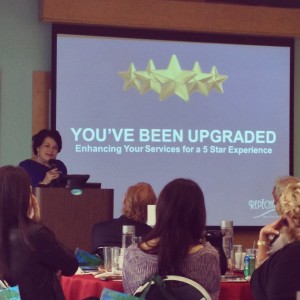 At this year's Network Power Lunch – Champagne Brunch, I had the opportunity to take the podium and present amongst fellow beauty industry leaders and professionals. For this year's presentation, I chose to focus on customer service. As owners of service oriented businesses, offering top notch customer service should always be a top priority. Opting to offer anything less than the best, will make or break the success of your salon or spa business.  How can you enhance your customer service, and give your clients a 5 star experience? Very simple…Upgrades!
Having been a frequent traveler for many years now, there are a select few words that I love to hear upon my trips, these are, "Mrs. Sarfati – You've been upgraded." For example, hotels and airlines, such Starwood and Delta, known for having some of the best client loyalty programs, offer upgrades as a way to show appreciation for clients. Incorporating this same level of customer service into your salon can really go a long way, as this gesture can enhance an experience tremendously. Offering upgrades to your clients can make an experience memorable and have your clients coming back to your salon.
Especially during the holidays, upgrades are the best time to give back to your clients and say thank you. Show your loyal clients you appreciate them by offering them an upgrade. Take advantage of the heavier traffic that the holidays can bring for your salon, and use this time to try to turn your average customer into a loyal client. In fact, this idea is what inspired me to create the new Repêchage Lamina Lift™ Mask. Whether the clients are waiting for their color to be processed at the shampoo bowl, or waiting for their service, offer clients a complimentary facial treatment and they will be smiling, and glowing, from ear to ear. They will forget they were waiting at all!
I truly believe in the idea of top notch customer service, and how it is what will separate you from your competitors. Remember, everyone wants to feel special. What better way than with an upgrade?
Are you upgrading clients? Tell me in the comments below!