Leah Chavie Launches VIP Skincare Center with Repêchage Professional Skincare Treatments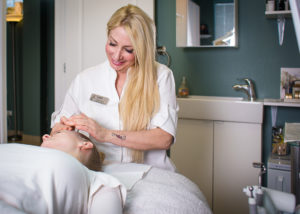 March 2013 – Chicago, IL- Leah Chavie of Leah Chavie Skin Care Boutique has opened a new, exclusive VIP facility in Chicago's Lincoln Park neighborhood featuring the Repêchage signature treatments and products.  The ultra private, ultra luxurious skincare center will be able to cater to Chavie's celebrity clients and Chicago's crème de la crème.
"It has been my dream to open this VIP center. It is my haven where clients can come and relax" says Chavie of the opening. When it came to selecting the skincare line for her top clients, the choice was an easy one, "I have been using Repêchage since the beginning of my career…it just made sense to bring this line to the new location. My client's need skincare that is effective, results-driven and treatments that would take our guests on a sensory journey – Repêchage does just that."
All services offered at theVIPCenterwill be performed by Leah Chavie herself.   Chavie, has been a skin care professional for over 20 years and is a certified medical esthetician, laser technician and offers her clients customized comprehensive skin care treatments with instant visible results.
NEW! LeahChavieVIPCenteris located at 2500 North Halsted (773) 360-1714. For more information visit www.leahchavie.com
For more information on Repêchage visit www.repechage.com  or call 1-800-248-SKIN(7546).