Layer 4: Repêchage Mineral Mask – The Total 'Wow' Experience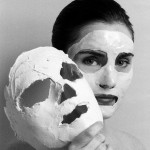 It is the grand finale of the fabulous Repêchage Four-Layer Facial®, the fourth and final layer, the mineral mask. This mask is applied directly on top of the seaweed mask and will be like nothing that your client's have experienced before!
Layer 4, just like Layer 3 comes in two unidose packets, the mineral mask powder in one and the mineral gel another, again giving your client's their own individual, freshly mixed mask during each and every facial. After making the mixture nice and smooth you will careful apply this mask over the seaweed mask which is firm five minutes after the application. The fourth layer will take your client from the cooling effect of the previous mask to a fantastic warming sensation. With the active ingredients of calcium and magnesium, this layer creates a thermal effect, heating to 101° F. The heat will help to visibly improve facial contour and firmness. The gentle warmth will also activate the properties of the seaweed mask beneath it.
The elevated temperature will not last for the entire time the mask is setting, which will take about 15 minutes for it to harden. This is the ideal time to administer a hand massage using Repêchage Sea Spa Hand Cream and a scalp massage using an Hydra-Amino 18® Hair Spa Serum. These extra services will truly enhance your client's overall spa experience and have them returning to you time and time again.
Once the mineral mask is completely cooled and hardened it is time to 'wow' your client with the unique way that you will remove this layer! This is not your average facial mask, because it hardens to the point where you will be able to remove it and still keep the layer intact. You will take the mineral Mask in both hands, on each side of the jawbone, rock back and forth slowly and gently lift off the mask in one piece. You will follow the mineral mask removal by sliding your finger under the edges of the seaweed mask and gently peeling off the mask in one piece as well. Your client will now be able to see the last two layers of their facial right in front of them!
Once the layers are removed your client will see the highly impressive results that these layers upon layers of seaweed have provided. They will have younger-looking skin with visibly renewed moisture and an afterglow that lasts. As soon as they touch their skin they will notice the difference! A complete 'wow' experience!
I am so glad to have had the opportunity to celebrate seaweed, the Four-Layer Facial® and the 33rd anniversary of Repêchage with you over the past few weeks. Thank you for your continued support and for sharing Repêchage and your passion for superior skincare with your clients! To our continued success and don't forget to get the new edition of my book, "Success At Your Fingertips: How to Succeed in the Skin Care Business."