Layer 3: Seaweed Mask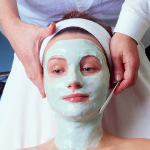 Our month of seaweed celebration is bringing back fabulous memories of first exposing my clients to the power of seaweed and the third layer of the Repêchage Four-Layer Facial® really brought the 'wow' factor into my treatment room! Layer 3 is the sensational seaweed mask that really provides a power-packed nutrient rich layer of seaweed directly onto the client's skin.
Layer 3 comes in two unidose packets, the freeze dried seaweed in one and the seaweed gel in another, allowing you to freshly mix each seaweed mask for your individual clients. This packaging ensures to your client that you will never be double dipping into a mask jar and it also makes your job easier as you won't have to mix water into the mask. The premeasured unidose packets also allow for the ideal amount of product for a perfect treatment each and every time. Make sure to tell you clients that they are receiving the highest quantity of seaweed's 12 vitamins and minerals, 18 amino acids and 42 trace elements that the body needs to maintain proper balance and function by having the mask mixed immediately before application. This fantastic mask will help improve your client's skin resiliency, firmness, contours and tone.
When you first apply the mask to your client's skin it will be in a gelatinous form but it will form to the client's face providing a wonderfully cooling sensation. This instantly refreshing feeling is a form of cryotherapy, which uses colder temperatures to help improve skin. This mask utilizes this form of therapy to soothe your clients skin while rejuvenating their overall complexion. Cold temperatures have the ability to help weaken the nerves that make your muscles contract and help to give wrinkles and fine lines a smoother appearance. Your clients will have a sensory experience with the temperature changes during this facial mask while also receiving amazing benefits for their complexion!
In addition to the seaweed mask being the third layer of the Four-Layer Facial®, you can add this amazing mask to a customized facial for your client or as a stand alone express treatment! The Seaweed Treatment Mask allows you to give your client a super dose of seaweed during any facial! Because of its cooling properties it is ideal for post-waxing or laser treatment, as this will calm and sooth your client's skin while also providing wonderful nutrients. It is also a fabulous addition for your clients that would like to focus on anti-aging as the mask is rejuvenating and helps smooth the overall complexion. And that 'wow' factor that I mentioned before comes when the mask is removed, you simply loosen the edges of the mask, as it has formed to your clients face and it can be easily peeled off in one piece! Your clients can then look at the seaweed mask for themselves!
Give your clients the most amazing skincare experience with the Four-Layer Facial® featuring the wonderful seaweed mask or incorporate it into another treatment! Your clients will be thanking you and coming back again and again!