Layer 2: Seaweed Facial Cream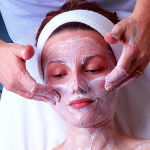 As I am continuing to celebrate the 33rd Anniversary of my fabulous journey of bringing beauty from the sea to you and the birth of Repêchage I want to share with you some more valuable information on the luxurious treatment that launched my company, The Repêchage Four-Layer Facial®! Last week we began our seaweed celebration with the amazing benefits of C-Serum, the first layer in the Four Layer Facial. Let's continue with the fabulous effects that these layers upon layers of pure, fresh seaweed provide to your clients.
Layer 2 drenches the skin with Hydro-Complex® PFS, a nutritive moisturizer that utilizes our proprietary sea-complex to help nourish, re-mineralize and hydrate skin. This rich moisturizer restores skin that has lost moisture due to age, climate changes or travel. It's super humectant and emollient formula restores skin vitality and youthfulness. Laminaria Digitata and Ascophyllum Nodosum seaweeds provide hydrating, nourishing, and anti-oxidant properties. And to add to the nutrients from Layer 1, this layer also has natural sources of 12 vitamins including B12, C, E, K and Beta Carotene, 18 amino acids, and 42 trace elements. Essential fatty acids help maintain the skin barrier while Alginic Acid, a polysaccharide, which helps to lock moisture into the skin and helps boost cell proliferation.
Along with the fabulous benefits your clients will gain from the seaweed in the Hydro-Complex® PFS it is important to share with them the other amazing ingredients that are doing wonders for their complexion! Hyaluronic Acid, a natural moisturizing polysaccharide present in the skin, is known to help with healing and tissue repair. Lactic Acid, an alpha hydroxy acid, gives this creamy product exfoliator properties, which is known to help gently smooth your client's skin. And Sodium PCA component is known to help bind moisture to the cells giving your client phenomenal hydration! And with two formulations, designed for dry skin and oily/combination skin, your client's skin will be hydrated and nourished based on their specific skin needs.
Clients will also be delighted to hear how the application of this product will enhance their complexion. During Layer 2 you will perform a wonderful three-movement facial massage with the Hydro-Complex® PFS that will not only relax and soothe your client but will help improve their circulation and skin elasticity truly impacting the final results of the facial treatment.
As your clients will be amazed by the difference that The Four-Layer Facial® will have on their skin, the second Layer is perfect to add to their at-home skincare. You can suggest the dry or oily formulations of Hydro-Complex® PFS as your client's at-home moisturizer and you will also boost your retail sales!
Make sure to explain the beautiful results that are unique to each layer of this timeless treatment and you will have a client returning again and again for The Repêchage Four-Layer Facial® as well as their products to keep them gorgeous and glowing for a lifetime!