La'James International College Introduces Repêchage Peppermint Sea Twist®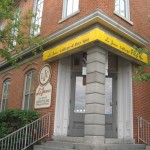 (La'James International College in Iowa City, Iowa)
May 8, 2013 – La'James International College (LJIC) hosted a training with Repêchage Midwest Regional Manager, Delanie West, to launch the Repêchage Peppermint Sea Twist® Treatment in four of the Iowa schools located in Fort Dodge, Iowa City, Johnston, and Cedar Falls.
"The 2014 Spa Trend Forecast shows Cellulite and Slimming Body Treatments will be one of the most sought after spa services for both men and women. La'James International College prides themselves in offering the newest and latest service innovations and educating our students to be successful in any realm of the spa industry. LJIC has chosen to launch the award winning Repêchage Peppermint Sea Twist Body Treatment to their guests because of the benefits it provides to the body and the instant results that will be seen by their customers," said Tawnie Lavallee, Regional Spa Director, La'James International College.
Just in time for summer, future beauty professionals at LJIC will now be able to offer the refreshing, contouring, firming body treatment, which combines peppermint oil with freshly harvested seaweed to stimulate, rejuvenate and purify skin. It can help improve circulation, aiding in the alleviation of sore, aching muscles and water retention. It is the ideal treatment for the summer season, as it is highly sought after for its body slimming properties. Students at LJIC will gain a fantastic perspective into one of the hottest body treatments clients are seeking and will expand their practical experience as they prepare for a job in the beauty industry.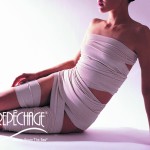 (Repêchage Peppermint Sea Twist® Treatment)
LJIC has been teaching students and fulfilling their mission statement, "To Enroll, Educate, Graduate and Place," for more than 75 years. There are seven LJIC locations across three states, offering courses in Cosmetology, Esthetics, Massage therapy and Nail Technology. Students at the various locations learn the ins and outs of the beauty world through class work and hands-on training at the LJIC facilities that offer the experience of working in a salon and spa setting. Esthetics students at all LJIC locations have been exclusively instructed with Repêchage products since 2011.