Keeping Clear- Tips to beating the summer breakout!
Summer is finally here! You've tightened and toned all spring and now you're finally ready for that teeny bikini! Now that you look and feel your best, don't let a summer breakouts put all your hard work to waste. Change in seasons can often be the cause of problematic skin. In order to maintain beautiful skin you have to know what you are up against so that you can protect your skin accordingly. Sunscreen, bacteria, and late summer nights can often be culprits during summer months. Luckily, these can all be battled so that you can keep that perfect skin you've been prepping all winter long!
Necessary Evil
Soak up the sun…screen:  Although sunscreen is an absolute must for protecting your skin from skin cancer and preventing wrinkles, it can sometimes be harmful to your complexion. When buying sunscreen, be sure to find one that is specifically for facial use. Look for sunscreens that are mineral and anti-oxidant rich and beware of sunscreens that include: fragrance as it may be a photosensitizer, isopropyl myristate as it may be comedogenic, or  PABAs which are known skin irritants. Also, keep your skin clean with a daily regime geared toward acne-prone skin. Even if you don't typically have acne, this will offset the multiple applications of sunscreen that your skin isn't used to. I recommend adding a daily deep pore cleansing mask like Repêchage Hydra Medic Sea Mud Perfecting Mask to keep skin clear all summer long.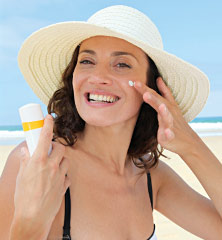 Bacteria
Keep it clean: Unfortunately, hot, moist weather creates a prefect environment for bacteria to thrive. As always, keep your hands off your face, and make sure that everything that does touch your face is clean. Towels, pillowcases, and makeup brushes should all be washed regularly with non-comedogenic cleansers.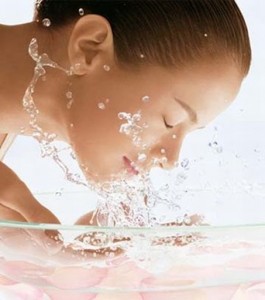 Post-party pimples
Remove your makeup!: Long summer days can lead to even longer summer nights. No matter what time you make it back from the luau, remember to remove your makeup! Leaving makeup on overnight is damaging to the skin and can clog your pores leading to, you guessed it, breakouts. So be sure you are completely bronzer-free by the time you hit the hay.
As always- water, water, water:  A couple of cocktails can leave you and your skin dehydrated. Amp-up the amount of water that you drink to flush your system, and re-hydrate your skin from the inside out.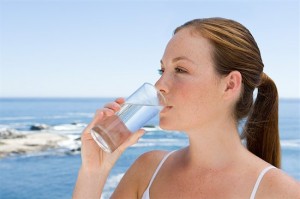 In the Spa: Find an Acne Facial Treatment! Continued Acne Facial Treatments help to control existing breakouts while helping to prevent new ones from forming. These treatments are wonderful in the summer time, because you are keeping your skin clear while giving yourself a little break from all of the summertime commotion!
Making the commitment to incorporate these tips and finding an Acne Facial Treatment like the Repêchage Hydra Medic Acne Facial Treatment can help you beat the summer breakout and keep your skin looking its best!