It Was the Best of Times at the Lydia Sarfati Master Class!
From March 21st through the 23rd, the Repêchage Headquarters was buzzing with seasoned estheticians, salon and spa owners alike with one thing in common.  Everyone was eager for education—my favorite thing! Visitors joined my Master Class from Poland & Trinidad as well as all over America from Texas and California.
I only personally teach at the Academy twice a year and my Master Class program is not for the faint- it is an intense three days of skin care training.  I am tough, but those that survive, come out of it with a new-found knowledge and technique.  We had one attendee comment that she learned more in three days than she did in one year at esthetics school!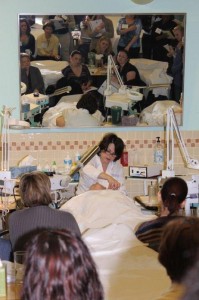 The class began with Repêchage product knowledge and  a scientific presentation on seaweed. With that under our belts, along with Lauren Streeter, Repêchage Corporate Educator, I led the class of 40 in an interactive demonstration of a classic European facial and our newest treatment—the Kanshi Spa Ritual.
Our first evening together, we all enjoyed a wonderful dinner at The Bonefish Grill — they worked hard and deserved it! The dinner served as a great way for everyone to mingle and get to know each other before the next two days of intense hands-on training.
It is one of my personal favorite things to be able to guide individuals through techniques and answer questions one-on-one as they arise during the process. I also personally analyzed each of the attendees skin and recommended a personalized program- this was a real treat for everyone in the class! Our amazing team was on hand helping to keep stations clean and stocked.
After all is said and done, the Master Class is always a teaching and learning experience for me. I believe that through these three days, I have been able to personally touch the lives and careers of each person who was here in an important way—through education.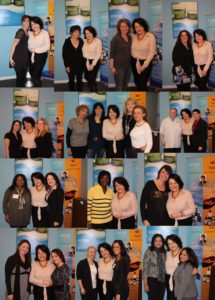 We are constantly offering education at Repêchage. See our calendar of events for all class listings and join us for the next Master Class following the 13th Annual International Congress Event in NYC. Book together now for a discounted package by calling 1.800.248.SKIN(7546).