Introducing the New Repêchage Hydra 4® Red-Out™ Facial With Micro Silver and Anti-Oxidants for Hypersensitive Skin (patent pending)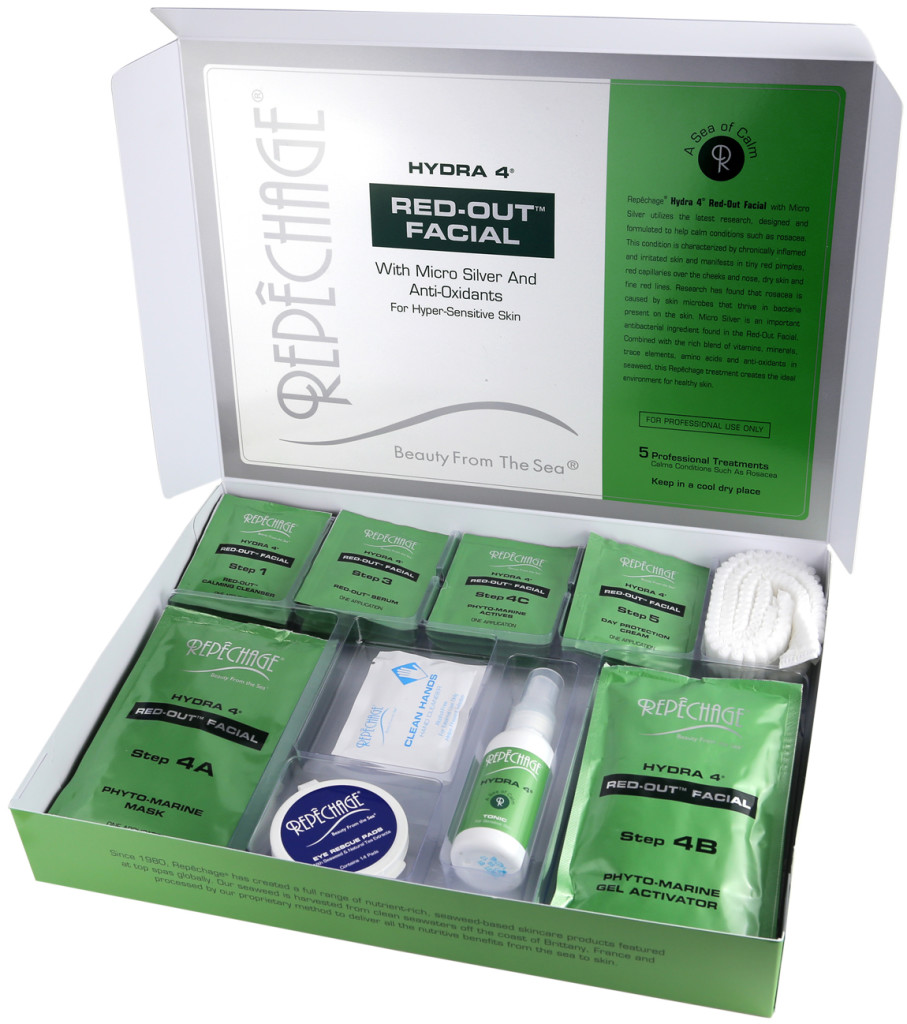 Repêchage, the leading manufacturer of seaweed based professional and retail skin care products, is proud to introduce their latest groundbreaking facial treatment, the Hydra 4® Red-Out™ Facial with Micro Silver and Anti-Oxidants for Hypersensitive Skin and To Help Calm Conditions Such as Rosacea. (patent pending)
Based on several years of research and development, Repêchage has incorporated several new ingredients into their protocol that helps to calm redness and irritation associated with sensitive and rosacea-prone skin. In one clinical study, nearly every patient saw a visible difference in their skin after one treatment*.
Hypersensitivity and rosacea affects a huge portion of the population.  In a recent poll, over 44% of people identified themselves as having sensitive to hypersensitive skin.  According to the Rosacea Society, rosacea affects nearly 16 million people in the United States and 45 million world-wide.
"It has been my mission as a skin care manufacturer and an esthetician to create a facial and product line that addresses hypersensitivity and rosacea conditions," says Lydia Sarfati, CEO and Founder at Repêchage.  "With the new Hydra 4® Red-Out™ Facial and Products, we have been able to identify new ingredients that work in conjunction with our nutrient-rich seaweeds to create the ideal treatment for these conditions."
Key to this is the incorporation of Micro Silver.  Research has found that one possible cause of rosacea are skin microbes that thrive on the skin.  Micro Silver has been proven to be anti-microbial, reducing the bacteria in which microbes thrive and therefore helping soothe inflamed and irritated skin.  Micronized silver has additionally been shown to be effective over a longer period of time than traditional silver powders.  Repêchage is the first skin care company in the U.S. to utilize this important new skin care ingredient.
Additional research found that one of the biggest aggravators to hypersensitivity and rosacea was reaction to free radicals.  The most common of these are Reactive Oxygen Species (or ROS) found in air pollution.  Seaweeds are one of the richest sources of natural anti-oxidants to combat ROS, containing ingredients such as phlorotannins, sulfated polysaccarides, fucosterol and fucoxanthins.
Repêchage Hydra 4® Red-Out™ Facial utilizes several seaweeds:
Laminaria Digitata: This brown seaweed is rich in anti-oxidants, helps hydrate and lock in moisture to the skin and provides anti-bacterial properties.
Enteromorpha Compressa: This yellow-green nori seaweed has soothing and anti-inflammatory properties, reduces the desquamation process of the skin and increases circulation.
Ahnfeltia Concinna: This red marine seaweed helps to soothe, hydrate and nourish skin.
Ulva Lactuca/Aosa: This green seaweed is protein-rich, hydrating and nourishing, stimulates synthesis of collagen and elastin fibers, is anti-inflammatory and regenerative.
These seaweeds, combined with Micro Silver and the following ingredients, create the most efficacious treatment for helping calm hypersensitivity and conditions like rosacea:
Quercetin: A bioflavonoid found in apples, berries, parsley, onions, grapefruit and wine, this has both anti-oxidant and anti-inflammatory properties, neutralizing free radicals and inhibiting UV irradiation-induced inflammatory response in skin cells.
Rutin: A potent anti-oxidant, this is a bioflavonoid found in high concentrations in citrus fruit, buckwheat, asparagus, rhubarb. It also helps modulate the breakdown of collagen and improves circulation.
Mirabilis Jalapa Extract: Also known as the "Marvel of Peru," clinical studies show this alleviates skin discomfort, fades redness from skin sensitivity, strengthens and hydrates the epidermis.
Organic Tumeric: Traditionally used in Indian medicine, it's a primary component of curcuminoids which exhibits anti-inflammatory, anti-oxidant and anti-bacterial properties.
Hyaluronic Acid: Extremely moisturizing to the skin, it is a natural moisturizing polysaccharide present in the skin. This ingredient can hold 100X its weight in water, and has an important role in wound healing and tissue repair.
The five-step facial kit contains everything you need to administer five full facials, pre-measured into uni-dose packettes, and even includes headbands and a spatula for proper mixing:
5 Hydra 4® Red-Out™ Calming Cleanser
1 Hydra 4® Tonic (2 oz.)
5 Hydra 4® Red-Out™ Serum
5 Hydra 4® Phyto-Marine Mask
5 Hydra 4® Phyto-Marine Gel Activator
5 Hydra 4® Phyto-Marine Actives
5 Hydra 4® Day Protection Cream
1 Eye Rescue Pads (14 pads)
5 Headbands
1 Spatula
Follow up the treatment by recommending the two new Hydra 4® Red-Out™ at-home products, the Repêchage Hydra 4® Red-Out™ Calming Cleanser (patent pending) and the Hydra 4® Red-Out™ Serum (patent pending).
Available at www.repechage.com  or through a Repêchage representative at 1-800-248-SKIN (7546)
For high resolution images or samples, please contact josie@repechage.com
*Tests conducted by licensed esthetician under doctor supervision
About Repêchage: Since 1980, Repêchage has created a full range of nutrient-rich seaweed-based skincare products featured at top spas and salons globally. Forerunners in sea plant technologies and pioneers in seaweed treatments and cosmetics in the US, Repêchage researchers seek out specific seaweeds, beneficial for a range of skin conditions and therapeutic needs. The rich blend of vitamins, minerals, trace elements, amino acids and anti-oxidants in seaweed makes it an ideal main ingredient for re-balancing, hydrating, anti-aging and renewing benefits. Our seaweed is harvested from the Brittany Coast of France and processed right in the Repêchage headquarters in Secaucus, NJ. Our proprietary method of processing the seaweed delivers all the nutritive benefits from the sea to the skin.