Introducing the NEW! Repêchage Fusion Express Bar and Spa Masks with Nutriceutical Organic Actives!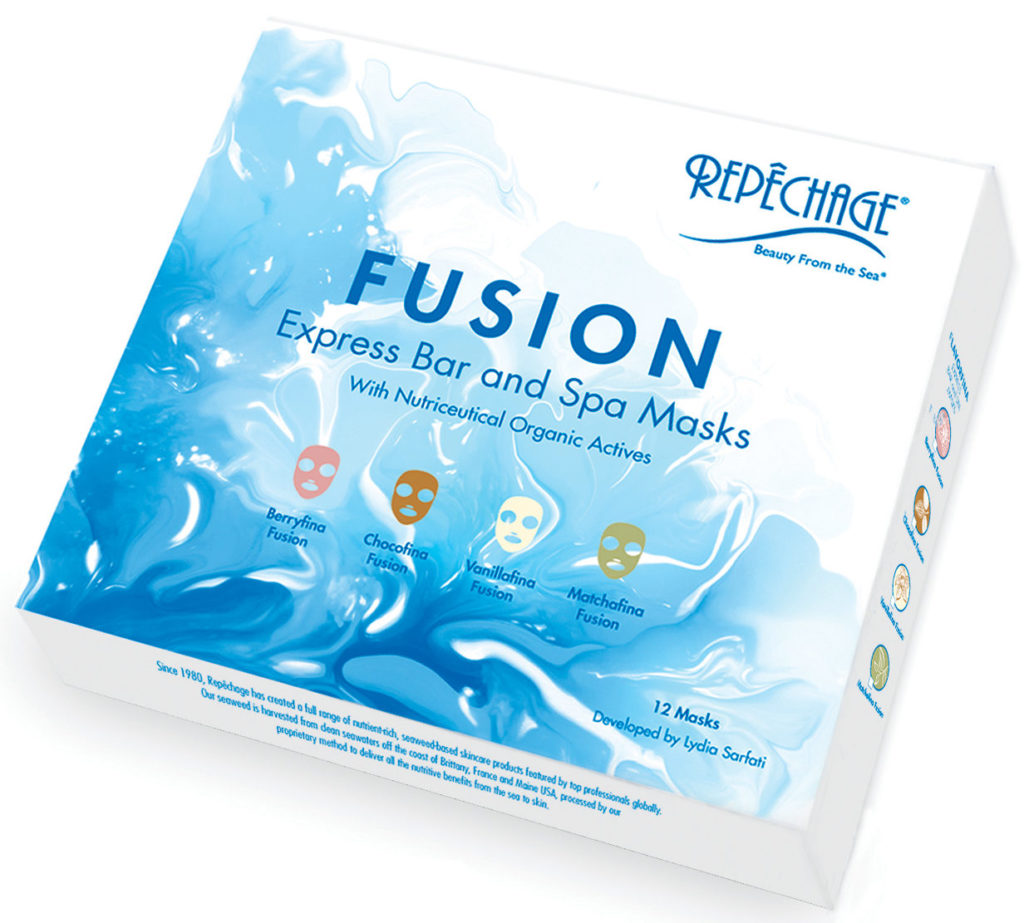 May 3, 2016 – The new Repêchage Fusion Express Bar and Spa Masks with Nutriceutical Organic Actives is a restorative, relaxing facial treatment that provides real nutritive benefits to the skin while stimulating the senses. With delectable and aromatic Organic Flavor Actives such as chocolate, matcha, vanilla and mixed berry, these fresh, customized facials are like smoothies for the skin, made with the very highest quality ingredients culled from the culinary world.  Clients will love the delicious aromas while reaping the physical and emotional benefits of sensory stimulation from light facial massage and a calming, custom-blended face mask, leaving skin looking and feeling restored and smooth.
"This professional treatment is based on an entirely new concept in beauty," says Repêchage CEO and founder Lydia Sarfati, "combining the powerful skin care benefits of seaweed with nutriceutical grade ingredients. These not only have real benefits to the skin but also provide a further sensorial dimension to the facial treatment. The new facial treatment literally takes the esthetic experience to the next level—providing intensive skin care while highly activating the senses."
This treatment is particularly beneficial for the younger client, to act as an introduction to good skin care while also offering a needed break from technology.
"As the creator of Repêchage and an esthetician for over 30 years," continues Sarfati, "I know that when it comes to having great skin for life, you can never start too young. An estimated 20 million 8-12 year olds in the US are spending $30 billion of their own money and $150 million of their parent's money every year. It is so important that this money is invested wisely in their own future health and wellbeing. With more and more tweens and teens stressed and depleted from spending the majority of their time in front of screens and devices, there has never been more of a need for young people to enjoy the soothing, time-out refreshment of a great facial massage and treatment. Yet, while this facial was created with the tween and teen skin care market in mind, everyone of any age can enjoy the benefits of the treatment. "
During the treatment, alginate-based masks are custom-blended with potent Nutriceutical Organic Flavor Actives packettes such as matcha (the purest form of green tea) chocolate, vanilla/pumpkin, and mixed berry. All have intensive anti-oxidant, anti-inflammatory benefits which when combined with the nutritive benefits of seaweed, create the perfect complexion for young and old.
Key Ingredient Benefits:
Laminaria digitata: This seaweed extract is the cornerstone of all the Repêchage treatments, providing hydrating, nourishing and anti-oxidant properties. It is a natural source of 12 vitamins, including B12, C, E, K and Beta Carotene, 18 amino acids and 42 trace elements.
Matcha: Unlike most green teas, matcha is shade grown and ground into a fine powder, containing the entire leaf of the Camellia sinensis. Matcha tea contains the highest concentration of polyphenols, in particular the potent EGCg (epigallocatechin gallate). EGCg is anti-oxidant and anti-inflammatory, counteracting the effects of free radicals from pollution and UV rays which can lead to cell and DNA damage.  In addition, EGCg has been found to reactivate DNA and regenerate dying skin cells, potentially able to reverse skin aging, as well as aid in wound repair and treatment of eczema and rosacea.¹
¹ "Green Tea Polyphenols Induce Differentation and Proliferation in Epidermal Keratinocytes," Journal of Pharmacology and Experimental Therapeutics, Dr. Stepehn Hsu, Department of Oral Biology and Maxillofacial Pathology, Medical College of Georgia,
Coconut Oil: Our carefully selected highest grade of lush, fragrant, coconut oil is rich in lauric acid, providing deep moisturization to the skin. Primarily composed of saturated fats and medium-chain fatty acids, it helps hydrate while polyphenols provide intensive anti-inflammatory benefits.
Açai Berry: Rich in anti-oxidants, healthy omega fats and protein, this palm fruit native to the Amazon is rich in anti-oxidants, and provides a delicious, delicate scent.
The Four Repêchage Fusion Facials include:
Vanillafina Fusion Mask (Vanilla Pumpkin): Vanilla is anti-bacterial, beneficial for acne skin. It also contains B vitamins such as niacin, thiamin, Vitamin B6 and pantothenic acid to help maintain a healthy, youthful complexion. Pumpkin contains Vitamin A to soothe and soften skin, and Vitamin C, a potent anti-oxidant.
Matchafina Fusion Mask (Green Tea): Green tea is rich in chlorophyll and has potent anti-inflammatory and anti-oxidant properties. The catechins in green tea may even slow down the aging process.
Berryfina Fusion Mask (Blueberry, Beet Root Powder and Strawberry): Blueberry is rich in Vitamins A and C, and can help normalize oil levels in the skin. Beet Root Powder is beneficial in the prevention and treatment of skin inflammation and acne. Strawberry Juice Powder also contains the potent anti-oxidant Vitamin C.
Chocofina Fusion Mask (Chocolate): Yes, there is such a thing as good chocolate! Studies show that cocoa powder contains flavonoids that absorb UV light and help protect the skin. Blood flow to skin cells is enhanced, increasing moisturization and healthy skin turnover.
As with all Repêchage professional treatments, this eight step facial kit contains everything you need to administer twelve full facials, pre-measured in unidose packettes, including:
12 Fusion Cleansing Cream
12 Fusion Soothing Massage Cream
12 Seaweed Aloe Powder
12 Laminaria Complex Gel
12 Fusion Face Moisturizer
3 Vanillafina Fusion Mask (Vanilla Pumpkin) Nutriceuticals with Organic Flavor Actives
3 Matchafina Fusion Mask (Green Tea) Nutriceuticals with Organic Flavor Actives
3 Berryfina Fusion Mask (Blueberry, Beet Root Powder and Strawberry) Nutriceuticals with Organic Flavor Actives
3 Chocofina Fusion Mask (Chocolate) Nutriceuticals with Organic Flavor Actives
2 Eye Rescue Pads Travel Size
Facial kits will also offer a full selection of all flavors, or will be available in single flavor kits for client favorites.
Everyone will also be able to "Experience the Fusion" at home with two retail products, inspired by the soothing, rich formulas Lydia Sarfati created for her children.   These include: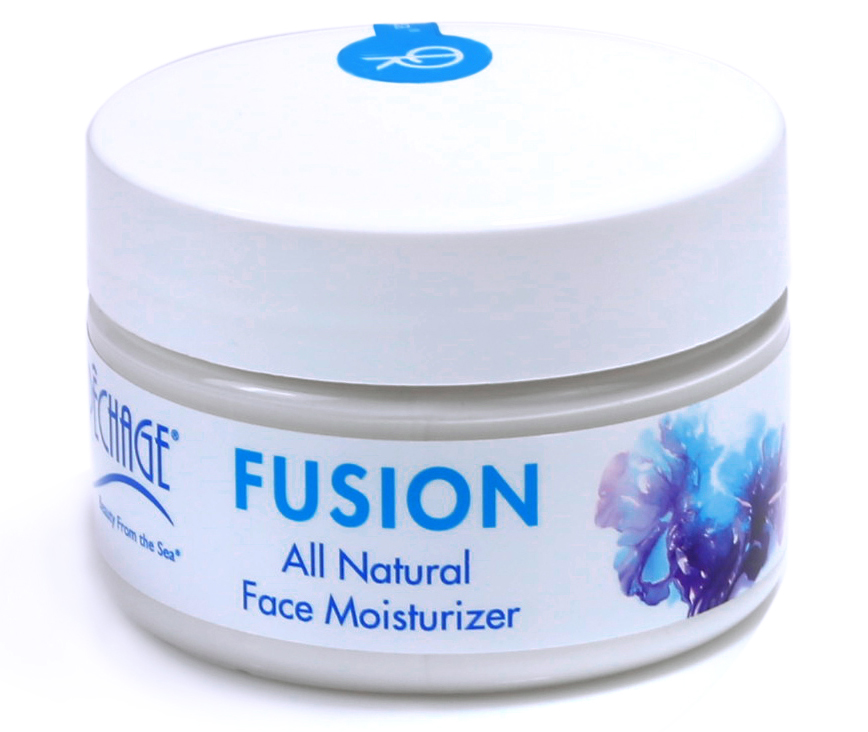 This soothing cream is a rich soufflé of natural and organic coconut oil, aloe vera, chamomile and vanilla and rooibos tea extract steeped in a Laminaria Complex to deliver soft, smooth skin.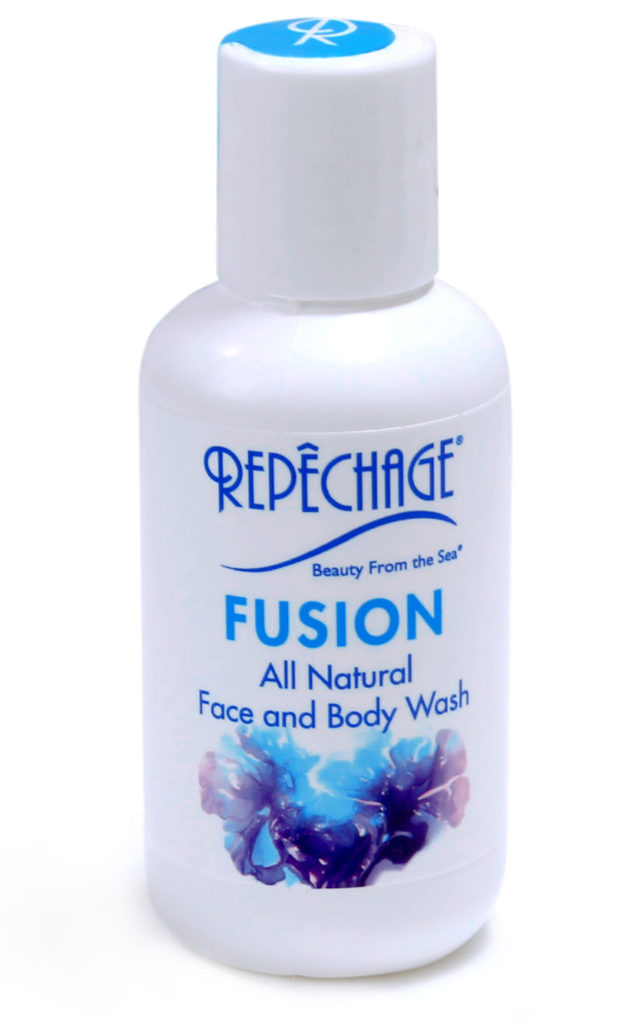 Indulge yourself and your loved ones with this all-natural soap based on olive, coconut and palm oils combined with the Repêchage exclusive Laminaria Complex. This gently foaming wash is perfect for skin of all ages, lightly scented with the uplifting aroma of aḉai berry.
Available at www.repechage.com or through a Repêchage representative at 1-800-248-SKIN (7546)
For high resolution images or samples, please contact josie@repechage.com
About Repêchage: Since 1980, Repêchage has created a full range of nutrient-rich seaweed-based skincare products featured at top spas and salons globally. Forerunners in sea plant technologies and pioneers in seaweed treatments and cosmetics in the US, Repêchage researchers seek out specific seaweeds, beneficial for a range of skin conditions and therapeutic needs. The rich blend of vitamins, minerals, trace elements, amino acids and anti-oxidants in seaweed makes it an ideal main ingredient for re-balancing, hydrating, anti-aging and renewing benefits. Our seaweed is harvested from the Brittany Coast of France and Maine, and processed in the Repêchage headquarters in Secaucus, NJ. Our proprietary method of processing the seaweed delivers all the nutritive benefits from the sea to the skin.