Introducing New! Repêchage T-ZONE BALANCE™ SHINE CONTROL SERUM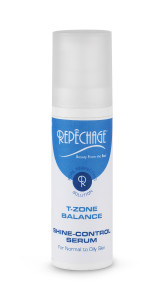 It's spring time, and the sun is shining – but is your skin too? Get rid of shiny skin and reduce oiliness this spring by using the New! Repêchage T-ZONE BALANCE™ SHINE CONTROL SERUM!
All thanks to a fabulous blend of botanicals from both the earth and sea, this lightweight, pore refining serum fights against excess oil without over drying, and will leave your skin feeling fresh, clean and matte!
The Ingredient Line Up:
Laminaria Saccharina (Seaweed)
This particular form of seaweed helps reduce sebum production and fights the oil oxidation that contributes to the formation of blackheads. At the same time, it hydrates the skin.
Laminaria Digitata (Seaweed)
Provides hydrating, nourishing, and anti-oxidant properties. Natural sources of 12 vitamins including B12, C, E, K and Beta Carotene, 18 amino acids, and 42 trace elements. Essential fatty acids help maintain the skin barrier while Alginic Acid – a polysaccharide – helps to lock moisture into the skin. Known to help increase cell proliferation.
Lemongrass Oil
Cleansing and purifying for the skin, the oil is used for its excellent, antiseptic properties. Helps normalize oil production and reduce breakouts.
Cucumber Oil
Cucumber is widely known as a soothing, cooling and healing agent, but the essential oil of cucumber has even greater benefits. With vital fatty acids and anti-oxidants, such as Vitamin E and Zinc, cucumber oil protects the skin and aids in healing. Proteolytic enzymes refine the skin and help keep pores clean and clear.
Salicylic Acid
This naturally delivered Beta Hydroxy Acid improves the appearance and condition of the skin. Known for its exfoliating action which can help to prevent breakouts.
Witch Hazel
An aqueous solution obtained by distilling leaves of Mountain Laurel (Hamamelis Virginiana). Rich in Tannis, Essential Oils and Flavonoids, Witch Hazel is known for its astringent tonic, refreshing andclearing properties as the distillate.
Licorice Root
The ingredient known for skin lightening benefits of the plant is Glabridin. Glabridin inhibits pigmentation by preventing tyrosinase activity without cytotoxicity. Also provides strong anti-inflammatory properties.
Mulberry Extract
Known for its skin lightening and brightening benefits.
Refine shine this spring with the new T-ZONE BALANCE™ SHINE CONTROL SERUM.
For more information or for a spa near you, please call 1-800-248-SKIN or log onto www.repechage.com.
For more information or high resolution images, please contact Josie@repechage.com.