International Skin Care Expert Takes On Italy Launches Repechage & Presents at interCHARM Milano
October 5th -9th, 2012 – Milano, Italy –  Lydia Sarfati, Repêchage CEO and Founder, attended interCHARM which marked the official launch of Repêchage Professional Skincare to the Italian market. Repêchage® will be distributed inItaly exclusively through Euracom, a family business who has been providing salons and spas with the most advanced skincare solutions since 1958. "I feel strongly that Euracom is the best company to represent Repêchage," said Sarfati of the new endeavor, "Their philosophy about professional skincare lines up with ours and I know this is going to be a very long and successful relationship."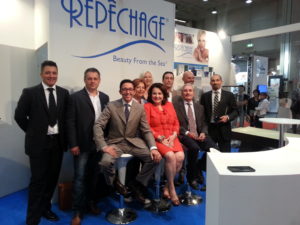 (Lydia Sarfati (center), Repêchage CEO and Founder with Euracom Team)
The launch took place in front of Euracom Sales representatives as well asItaly's top salon and spa owners and estheticians. "This is very exciting because we are really introducing something
completely new to the Italian market. So far, our competitors find us to be courageous, editors find us exciting and our clients are excited to get the products on their shelves!" said Maurizio      d'Emilio, Director General of Euracom.
D'Emilio was right; the press jumped at the chance to try the Repêchage products and meet the founder! The Repêchage Four Layer Facial won the heart of Vittoria Filippi Gabardi, Italian Vogue Beauty Editor, after Sarfati administered it herself after a luncheon interview. Sarfati and Repêchage also caught the attention of trade editors from LNE, esthetitaly and emotionSpa magazines.
Sarfati was also invited byCIDESCO Italy President Dr. Andrea Bovero to present at interCHARM Milano to share the most recent skin care trends and technologies. Sarfati presented "Anti-Aging Face Innovation: New Face-Aging Treatment Protocols" discussing how environmental exposure, genetics, ethnic, hormonal, nutritional and chronological factors influence aging of the skin resulting in hyper pigmentation and wrinkles.  She also performed a professional solution utilizing the latest in breakthrough anti-aging ingredients. The presentation was extremely well received and participants.
For high resolution images, please contact Brady@repechage.com
Repêchage® will be distributed in Italyexclusively through Euracom. For more information about Euracom, please visit www.euracom.it or call 02 502970 to contact Claudio d'Emilio.
For more information about interCHARM Milano, please visit www.intercharm.it