How-to Set Up A Facial Bar
Working with salon and spa professionals to grow their business has always been one of my passions.  I  am thrilled to share with you a truly innovative concept that will bring fabulous results to both your business and your clients – Introducing The Facial Bar.
The Facial Bar will create a revolution for the facial service by making it visible and available right on the salon floor. When you begin to offer facials out in the open, it will breathe new life into your business.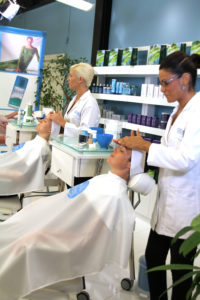 Many of today's men and women don't have the time for a day of beauty. I've created the facial bar as an appetizer — a chance for your clients to try the wonderful products and experience stunning results — in only 30 minutes, sitting upright in a chair, draped with a cape as they would be for any hair service.
The facial treatments offered at the Facial Bar will provide many immediate benefits such as nourishment and hydration, deep pore cleansing, lifting, firming and balancing the skin. In 30 minutes or less, your clients will feel  relaxed, refreshed and rejuvenated .
Facial Bar creates "The Want" factor in the salon environment – When clients see others receiving treatments and view the wonderful results; they will want the experience as well. It will be an eye opener for your clients and change the way they think about skin care. The Facial Bar is truly an evolution of the salon as we know it today.
The equipment you will need for your initial Facial Bar set up will include:
– A Bar Area
– Lydia Sarfati Signature Facial Bar Chairs
– Magnifying Lamp
– A consultation chart
– I also recommend the Repechage Facial Bar product opening order so that you can begin to incorporate this concept into your own business and be a part of the growing number of salons and spas already enjoying the success of the Facial Bar.
1. Set up your Work Station
The Facial Bar will consist of a work station or several workstations. Each work station should be set up in an orderly way with all of the products and items you will need. Be sure that you have plenty of the items on the following list. This will ensure a smooth "flow" in between clients, and also maintains the utmost sanitary environment for you and your clients.
These items are:
Non-scented facial Tissues
Vinyl Gloves
Cotton Squares
Headbands
Sanitizer – Repêchage Clean Hands Anti-Microbial Hand Wipes as well as alcohol
Spatulas
Closed-lid Garbage Cans- 1 per Esthetician
Professional Service Towels to drape clients and to keep work area clean
Rubber Mixing Bowls
Small Bowls
Bottled water- for quick water change
Hand Mirror, 1 for each station
Make-up Sponges- for application of masks and makeup
FacialBarCape
Cotton swabs
2. A brief consultation:
An essential part of every treatment service is the client consultation. Your initial consultation should take several minutes. Have the client complete the consultation chart and discuss their skin condition and what their treatment goals are. Ask about their current skin care regimen, and if they are taking any medications or have had any other treatments that may affect their skin.
3. Skin Analysis: Once the client fills out the chart you will continue the consultation using a floor standing magnifying lamp or you may also use magnifying glasses.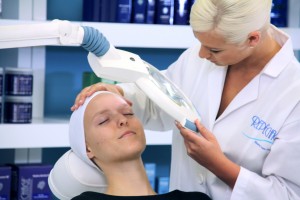 4.) Proper Draping: Next, you will want to pull your client's hair back in a hairband. Make sure all of the hair is pulled back away from face so that product doesn't end up in it. Take one of the professional service towels and wrap it around your client's neck. Then drape the cape over the client.
Once your client is comfortable in the facial bar chair, you can begin with the express treatment that you have recommended for them.
After the express treatment be sure to recommend an at-home care program to your client. If they had a deep pore cleansing mask, then be sure to recommend home care range for problem acne skin. This is also a perfect opportunity to apply mineral makeup that will help protect the skin after the treatment. And if your salon offers clinical facials, you may also suggest that your client experience a full length treatment at their next visit.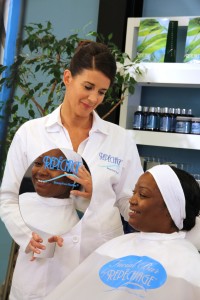 The Repêchage Facial Bar is the future of the skin care industry and now you can feature this revolutionary new approach to skincare in your salon.
If you're looking for the perfect treatment to get started with this concept, learn more about our NEW!  Repechage Fusion Express Bar and Spa Masks with Nutriceutical Organic Actives!
Interested in learning how to set up a Facial Bar? Call 1-800-248-7546 or email info@repechage.com and let one of our representatives work with you to make this a reality at your salon or spa!