How to Plan a Successful Holiday Spa Event: Be Prepared!
With holiday season just around the corner, now is a great time to start planning a special event for your Salon or Spa. 'Tis the season for gifting and shopping and a spa event is a great way to get clients in your spa to purchase gift certificates, retail products, and schedule full length spa services for themselves or their loved ones.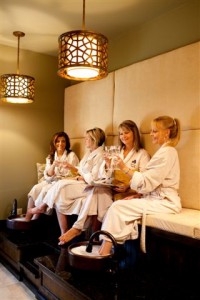 Lemongrass Day Spa Valdosta, GA

A lot of work goes into planning a successful event, and if you are not prepared it will show. Below is a timeline to keep you on track for a successful holiday spa event:
8 weeks prior to the event:
– Save the date. Schedule a date and time for your event.
– Schedule a staff meeting to ensure that your employees are up to date on skin analysis and protocols.
– Update your client database. Make sure that all of your client's names are spelled correctly and that you have their current addresses to control postage costs.
4 weeks prior to the event:
– Mail out invitations announcing the event. Make your invites stand out! Sending invitations in shiny silver or bold red envelope will surely get your client's attention.
– Be prepared. Take an inventory and make sure all of your shelves are stocked with retail products. Not only are your clients going to be shopping for themselves, they are also going to be looking for gifts so make sure have all their skincare needs!
– Create a timeline. Organize your appointment calendar to schedule 20 minute skin consultations.
Image courtesy of www.blindgossip.com
2 weeks prior:
– Deep clean the entire spa.
– Ensure you have clean, fresh testers, product directories, and tissues. It is better to have too many than not enough!
– Pick up the phone. Call everyone who has RSVP'd to the event to remind them the date is approaching. Also be sure to call those who have not yet RSVP'd to see if they will be able to attend.
– Set the mood! Select the kind of music you will be playing at the event. I personally enjoy classical, Rod Stewart or Frank Sinatra but everyone is different! Choose music that best suits your customer's tastes and preferences. Also make sure that your audio system is working properly.
– Hold another staff meeting to explain the goals of the event. If you are able to, offer staff incentives. This will keep your employees ambitious and they will really work the crowd. It will create a lively environment for the event and also help your salon or spa make money!!
The day before:
– Make sure that your salon or spa is immaculate, fully stocked with product, and that you have the appropriate signage. Leave no stone unturned.
– Make sure that you are using sales and marketing tools such as shelf talkers and posters to create further excitement.
The day of:
– Have a brief staff meeting to review each person's assignments.
– Take one more complete walk through and make sure everything is in its place.
– Set up refreshments. If you're serving alcoholic beverages, try something festive like a cranberry or peppermint signature cocktail. For non-alcoholic beverages offer hot cocoa or mulled apple cider. Also be sure to offer clean finger foods.
Image courtesy of www.marieclaire.com
Now that your event has finally arrived, get to work and sell! As guests arrive, greet them at the door and thank them for coming, offer them refreshments, and instruct them to complete their skin analysis charts. Following treatments make sure your estheticians are recommending retail products and explaining exactly how they work.  If your client is looking to smooth fine lines and wrinkles, show them anti-aging products that they can use at home. As I always say, "Show and tell and you will sell!" Show your clients the retail products, tell them how they work, and get them up to the register!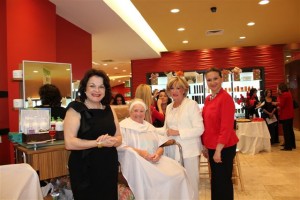 Christie & Co. Salon  ●   Spa Queens, NY

I hope that this event planning timeline is helpful for your salon or spa during this holiday season. I wish you all the best of luck!
Please join us for our Power Lunch December 5, 2011 for more great business tips and holiday shopping!
Call 1-800-248-SKIN for details!