How To Make Any Time Spa Time – Even 30,000 Feet Above!
I was so intrigued by New York Times editor Catherine Saint Louis' article, An Hour to Pamper, Remote In Hand! As a beauty industry pro with a busy (veryyyy busy) schedule, it's always interesting to find out how other equally busy professionals (like Nancy Welker of FitBeautiful Magazine, breaks down her 5 minute skin care routine in the April issue) find the time to fit their beauty routine into their schedule. As you may know from past blogs, videos and interviews, I take the time on a daily basis to maintain my skincare routine with a commitment of about ten- fifteen minutes in the morning and at night for regular upkeep.
I am for one constantly on the go, flying between trade shows and visiting clients all over the world from Poland, Asia and all across the U.S., my spa time often begins at 30,000 feet up in the air.  It's a great way for those of us who are multi-taskers to really get in our necessary beauty regimen without missing out on too much else.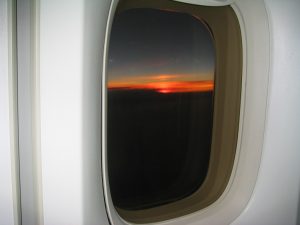 So if you're like me, and you need to schedule in some spa time wherever you are, here are a few of my suggestions that every jet-setter should know…I call it Spa Par Avion!
When you fasten your seat belt, set your watch to the time of your destination.   This will help your mind get used to the change in time and give you a head start on beating the jet lag.
Make yourself a nightcap.  Flying can be a very stressful experience, but instead of reaching for a stiff drink that will surely dehydrate you and have you looking puffy, make yourself a "Repêchage Cocktail."  Take 5 Repêchage Hydra Medic Freeze Dried Spirulina Nutritional Supplements straight up and wash down with a glass of water.  Not only is Spirulina a great immune booster it also helps detoxify the body, so you land feeling invigorated.
After your in-flight meal, take a walk.  Walking up and down the aisles of a 747 carrier 20 times equals 1 mile.  Not only will you be working off the less-than-appetizing airplane food, but you will also feel energized.
After your walk, return to your seat and treat yourself to a massage.  Lack of circulation is a common problem during long flights and causes fatigue and restlessness.  Increase your circulation and boost your energy level by applying pressure to a few key places:  Massage hands with Repêchage Sea Spa Hand Cream, a perfect non-greasy, hydrating cream in 1oz travel-friendly sizing, and rub the length of your pinky fingers to relieve stress and to help build your immune system.  Then remove your shoes and socks and spray your feet with Kanshi Instantly Refreshing Foot Spray with odor cutting Lemon Myrtle as well as Horse Chestnut to help improve leg circulation.  Replace socks and apply pressure to the top of your big toe, which will help to alleviate the pressure on your sinuses that often get blocked from the cabin pressure.  Finish off by gently massaging your temples.  You will instantly feel less tired and more alert.
Massage cuticles with Essential Oil of Seaweed. This is a great cuticle treatment that will hydrate and repair damaged cuticle areas that tend to dry out in-flight.
Take a nap.  I like to travel with ear plugs – blocking the noise of the jets ensure a better quality sleep.  Place Repêchage Eye Rescue Pads with de-puffing seaweed and teas over each eye lid and then place your in-flight eye mask over the pads.  This way you get an extra eye treatment while you catch up on your zzzz's.
A half hour before landing, head to the bathroom to brush your teeth, wash your face, and use Repêchage Hydra 4 Travel Collection – the jet-setter's essentials for clean, toned and hydrated skin.  First, remove in-flight build-up with Hydra 4 Cleanser and then spray on Hydra 4 Tonic – a blend of fresh seaweed and olive leaf extracts to soothe your skin.  Rehydrate your complexion with Hydra 4 Day Protection Cream.  When you have a moment once you get to your hotel room, use Hydra 4 Mask – a super anti-oxidant formula – and leave on for 10-15 minutes.  Don't forget to apply Repêchage Perfect Skin Liquid Foundation for a flawless complexion. You are now ready to face your clients, nail that business deal, and look your best at your dinner party.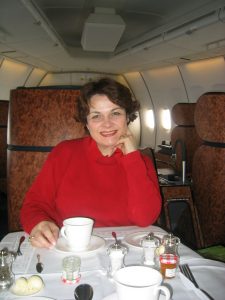 I hope this beauty routine gives you some ideas as to how you can be a busy professional and still make time for yourself.  Remember, you can make anytime "spa time" – it just takes getting a little creative!
Please share with us in the comments section any tips you have on how you make time for your beauty routine anytime anywhere.