How to get Involved in Medical Esthetics?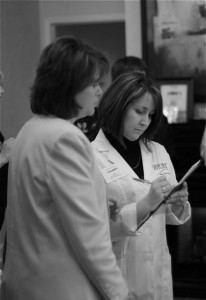 More and more dermatologists and plastic surgeons are recognizing the contributions of estheticians to the well being of their clients. Many are even incorporating day spa services as part of their practices by either hiring full-time estheticians or developing an association with a day spa. Increasingly, dermatologists and plastic surgeons do not see estheticians as competition, but rather as equal partners.
The medical society is beginning to recognize the professionalism of the esthetics industry. Like never before, this is an excellent time for skin care professionals to reach out to the medical establishment. You can increase your credibility as an esthetician and grow your business by establishing a relationship with a local dermatologist and plastic surgeon.
You will want to hook up with a respected physician whose philosophy towards skin care matches yours. Begin by researching leading dermatologists and plastic surgeons in your area. Ask friends, family, and clients which doctors they have heard good things about. Who is the doctor featured in health segments on the local news and cited in the local newspaper? You may contact your personal doctor or the neighborhood hospital for a referral.
Once you have narrowed down a few dermatologists and plastic surgeons you would be interested in pursuing a business relationship with, ask their receptionist to send you some information on their background and on their practice. It is important for you to know as much as possible about a potential colleague.
Likewise, you will need to create a sort of press kit about yourself and your practice. The more professional and detailed your information kit the better. Not only do you want to include your resume, information on the success of your business, and press clippings, include a proposal on how you see your practices working together. That means designing treatment protocols that complement medical treatments and surgical procedures. Contact your product manufacturer for suggested protocols. Do not hesitate to suggest a price structure for such services based on what he or she currently charges. Make your proposal as simple for the doctor to implement as possible.
A dermatologist or plastic surgeon will want to know how you can help grow their business. Provide before and after photos of how pre-op and post-op program can decrease bruising and swelling and speed up healing time. The medical establishment appreciates quantitative and scientific proof.
Begin by referring clients to your intended dermatologist and plastic surgeon so that they are familiar with your name. When you meet with him or her, remind them of all the clients you have already sent their way.
Personally, you might like to enroll in some anatomy, chemistry, and other pre-medical courses at the local university or community college. The better you can speak to medical professionals using their vocabulary, the more you will impress them.
Send a letter of introduction, your press kit and business proposal to the physician of your choice. Follow up with a phone call a few days later to confirm receipt and to arrange a meeting. If the physician is uninterested, ask if you may meet with him or her to discuss how you can make your proposal more appealing to his colleagues. The doctor may even be willing to arrange an introduction with a colleague.
Doctors and plastic surgeons are very particular. Be sure to arrive early, dressed to impress in professional attire. Bring any presentation aides to make an impressive case. Present case studies of other medical practices that have benefited from a relationship with an esthetician and how you see your role in a medical practice. Even if the dermatologist or plastic surgeon does not want to hire you full time or incorporate your services as part of a pre-op or post-op program, you will be able to establish a referral program between yourself and the practice.
You may need to meet with several dermatologists and plastic surgeons to find that perfect match. Keep in touch with physicians and surgeons who initially seemed disinterested. Send them updates about yourself, your business and press clippings to keep your name fresh in his memory. He or she will be much more likely to send potential clients your way.
In recent years, the esthetics industry has grown into a more serious profession that requires increased education and stricter regulations. These changes have given the esthetics profession increased respect from the medical establishment. With the creation of technologically advance treatments and products, estheticians are able to provide a whole new support to both dermatologists and plastic surgeons. To keep up with this evolving industry, skin care professionals of all backgrounds need to work together.