How-To Become a Successful Entrepreneur
It takes a very special kind of person to be a successful entrepreneur. Throughout my career, I have seen businesses soar and fail and usually the ones that are successful all have the same thing in common – a passionate, dedicated, driven entrepreneur at the helm. Although I believe that being successful is something that is within you, there are definitely traits and practices to help you reach success.
Passion. It all starts with a dream. Before you can become successful at anything you have to have passion. For me, the choice for my career was a no-brainer, I always knew that the beauty industry was where I belonged. I went from being an esthetician working out of my home to owning and operating a global skin care brand. For me, the driving force behind it all was being able to help other estheticians have successful careers. I wanted to be able to give them the tools that they need to see the success that I was able to find for myself. I love seeing my clients become successful and coming to work each day is a treat. I believe that if you can find something you are passionate about you truly will never work a day in your life.
Planning. The first step on the road to success is creating a solid business plan. Your plan is your map; it defines your destination and illustrates how you will get there. People don't just fall into success, they create it for themselves.
Take what you do seriously. Your job is a reflection of yourself and you should take pride in it.  Someone that shows up to work in the sweat pants is obviously not taking their job very seriously. Every day, no matter how tired or what is going on at home, you have to dress up and show up.
Tenacity. If you have a dream, you can't ever let someone deter you from it. I think it would be hard to find a successful business person who had said it was easy getting to where they are. Along the road, there will be people you don't believe in your dream but if you really believe in yourself, you have to stay the course no matter who or what might try and get in your way. Be tenacious and never let "no" stop you.
Build a great team. It is crucial to your success that you combine the right personalities and that you create a cohesive team. Surround yourself with smart and driven people who want success just as much as you do. It will make it easier for you to do your job and also keep you motivated for continued success.
Get a mentor. It is important to have someone outside of your team, someone without an investment in your business, to bounce ideas off of and get neutral advice from. Choose someone who you trust and respect and who has a proven track record for success to talk business with. It is important to get an outsiders opinion sometimes, especially if you come to a point in your career where you are unsure about something.
Go above and beyond. This is something every entrepreneur needs to understand. Exceed customers' expectations by giving yourself the ability to improve everything you do. If you aren't seeing success, then you aren't providing your customers with what they want. Never forget: Your clients are your bosses and must be treated accordingly. Do that, and you will create fans for life.
Invest in yourself. Continuing education is so important especially in today's competitive workforce. It will not only give you an edge over the competition but enrich you and make you a well-rounded and fulfilled individual.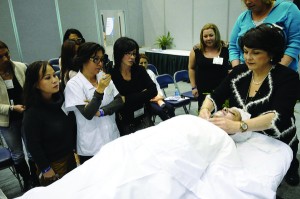 The one thing I am sure of is that if you are able to rely on yourself, you have the power to achieve almost anything. Choose today to live the best life possible and your success professionally and personally will be ensured.