Happy Thanksgiving!
Happy Thanksgiving!

As I did last year, I would like to take the opportunity to say Happy Thanksgiving to everyone in America! Thanksgiving is right around the corner and I am so excited! I wanted to take this time to share with you all that I am thankful for, as well as a few of my recipes that I plan to use as this year's Thanksgiving hostess!
First and foremost, I am so blessed to spend this year and many more to come with my wonderful family and friends. My family is my everything and I cannot wait to celebrate with my husband David, two daughters, Iris and Shiri, all my grandchildren, and all of our other family and friends! I would also like to thank every member of the Repêchage family for helping us get to where we are today! I am so grateful for all of you.
With that, I cannot wait to treat all those at my Thanksgiving dinner with these special recipes. They are so wonderful, so I would like to share them with you so you can treat your family and friends too!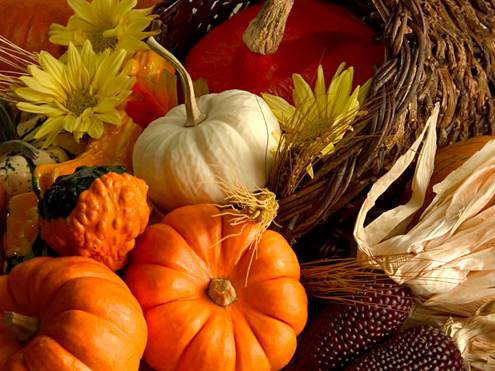 Turkey Wrapped in Seaweed
As you know, I am the biggest advocate of seaweed, and its versatile benefits. Besides being a core ingredient in Repêchage products to bring the best results for incredible skin, seaweed can be used to give your Thanksgiving turkey a kick!
1 Turkey (I use a Kosher turkey)
Fresh Herbs and Spices – Oregano, Thyme, Rosemary, Black Pepper
Fresh Garlic
Sea Salt
Maple Syrup
1 Lemon (for lemon juice)
Olive oil
Seaweed Strips – Contact your local ocean farmer like Thimble Island (located in CT)
1. Remove turkey from package, wash and dry the turkey.
2. Blend together your fresh herbs and spices and 1/2 tsp sea salt (Kosher turkey is already pre-salted, so if using a Kosher turkey a lot of salt is not needed) to create a rub for the turkey.
3. Add 1/2 cup of maple syrup and some fresh garlic to the blend.
4. Rub this blend all over the turkey, inside the cavity of the turkey, and underneath the skin.
5. Wrap the turkey with seaweed and cover with foil.
6. Place wrapped turkey in the oven and bake at 400 degrees Fahrenheit for 2 hours. While cooking, baste the turkey with olive oil, maple syrup, and a little lemon juice (lemon juice is optional)
7. Remove turkey from oven, take off foil and seaweed and cook the turkey for another 2 hours at a lower heat of 325 degrees Fahrenheit.
* Use this time in between cooking to treat yourself to a relaxing bath with Repêchage Sea Spa Mineral Bath Salts or apply your favorite Repêchage face mask before your guests arrive!
Cranberry Sauce
1 bag of fresh cranberries
Zest from 1 orange
1 cup of freshly squeezed orange juice
1/2 cup of organic brown sugar
3 green jalapenos (finely chopped)
1 small red jalapeno (finely chopped)
1 cinnamon stick
1. Combine all ingredients in a sauce pan.
2. Bring to a boil – reduce the heat to simmer, and let it simmer for about 30-40 minutes.
3. Remove cinnamon stick.
4. To make the sauce thinner, add a cup of hot water.
5. Let the sauce cool down, and refrigerate it overnight to congeal.
What are you thankful for this year? Tell us in the comments below!