Global Insights: Repêchage Education in Ghana and Fusion Launch in Milan, Italy
As you may know by now, traveling around the world is a big part of my life! Seeing what skincare trends and innovations are happening in other countries is one reason why I love to travel, but another motivation for traveling is that I am able to share my knowledge on skin care and business to inspire others to achieve greater success. It gives me great pleasure knowing I can give that to other estheticians throughout the world. There are always important takeaways from my travels, and I want to share them with you. Read below to see what insights I gained from my recent trips to Africa and Milan!
Repêchage Education in Ghana
On May 16-20th I had the opportunity to join Dzigbordi K. Dosoo, CEO & Founder of Allure Africa, for the launch of our newest line, FUSION Express Bar & Spa Masks, at the new American Skin and Body Care Academy in Ghana. The objective of the Academy was to provide education on basic skin science, improve the skills of the salon professionals, and empower them with knowledge to provide excellent service and treatments to their clients. I'm a strong believer that continued education improves your life and improves the life of others around you. This is something that was instilled in me by my parents, and I have insisted on and provided great education for my children in turn. When you are educated, you have the power of knowledge. That is something that no one can take away from you, no matter what situation you find yourself in, whether economic, political or regional. It is for this reason that education has been the fundamental passion in my life.
The Academy meets twice a month for 10 months, and students receive a diploma and certification at the end, demonstrating they know and understand the fundamentals of esthetics. For this Academy, Repêchage partnered with Allure Africa to provide students the opportunity to learn exactly how to apply Repêchage facials the way I intended these treatments to be carried out. I could tell from the high levels of enthusiasm and passion shown that all the students were very appreciative of the chance to learn high level skills! For many, this was the first time they've been given this opportunity. They all felt strongly that they will become more successful with the knowledge that they have obtained.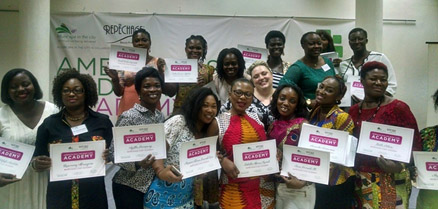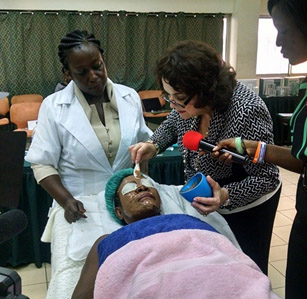 I demonstrated hands-on our Spa Sensory Ritual Treatment, which includes the Lamina Mask and a full body massage utilizing the Vita Cura Body Collection. One memorable "Aha!" moment was when my students realized that you have to treat the body's skin differently in different areas— it's not a one-size-fits-all procedure! To this point, I demonstrated how Nutrí Oil is used on dry feet and legs. For the upper thigh area, where there was visible cellulite, I used the Vita Cura Contouring Cream, while for the very dry elbows and knees, I used a Nutrí Cream.
Explaining the histology of the skin provides a better understanding of what is happening to the body and why clients are experiencing certain conditions. For example, another important teaching moment came when I instructed students on the proper procedure for extractions. One of the biggest problems I have seen in Ghana is the formation of keloids, caused by improper use of stainless steel extractors which cut open the skin when removing blackheads or pustules. I was able to demonstrate how using small, disposable needles, and performing a gentle, sanitary removal of pustules and comedones was very important to avoid cross contamination and formation of keloids.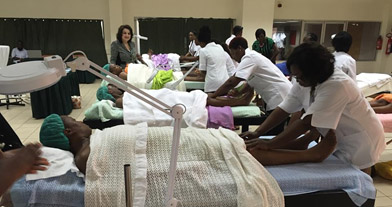 Another problem we addressed was hyperpigmentation as a result of using hydroquinone. Ghana actually recently announced that they will be banning hydroquinone because of such issues. I taught the students the importance of sun protection, even when dealing with skin tone in the 4 or 5 level of the Fitzgerald scale. Anyone can get sunburn and skin cancer, so education on proper protection is paramount, and having the knowledge how to recognize early signs of skin cancer.
Profuse sweating and its consequences were a big issue as well. Ghana is very hot and humid most of the time, and perspiration cools your system down, so by perspiring more the body is cooling more. I told the students, if they feel fatigued they need to replenish their electrolytes. By drinking coconut water, a native drink that can be found on any street corner in Ghana, they can refuel their electrolytes naturally. Also, wearing breathable clothing will allow more air flow around the skin. An unintended consequence from the heavy sweating is dehydrated skin. Because of the sweating, people take showers more frequently, which can have the side effect of causing skin to become very ashy and dry. Understanding the importance of using a pH balanced wash like our FUSION All Natural Face & Body Wash, made of castile soap which has a non-drying benefit, was extremely important in this climate. It also contains our Laminaria complex and olive oil, making it very gentle to the skin. Following up with FUSION All Natural Face Moisturizer, with its combination of coconut oil, aloe and chamomile among other ingredients, allows the body to retain the moisture in the skin.
FUSION Launch in Milan, Italy
FUSION was a huge hit in Ghana! Yet, after spending five days in Africa, I was off to Europe to launch this wonderful new treatment and at-home line in Milan, Italy with the help of the U.S. Department of Commerce. We expected 60 attendees to listen to myself and Yolanda Amador Origel present this revolutionary concept to the spa world, and got over 100 instead! Everyone was so excited about the launch. In fact, there was a huge article about our presentation in Il Messengero, (the New York Times of Italy.) The editors, journalists and participants all understood the concept of "smart stress," the modern phenomenon where we, as a society, become stressed from all of the "smart" technology meant to make things simpler. This isn't exclusive to adults, however; everybody is walking around with their iPhones, and even babies are learning to ask for an iPad!
We recognized the need to produce skin care and anti-stress treatments that would benefit and appeal to the younger generations as well, which is how the FUSION Express Bar & Spa Masks and at-home products were born. These awaken the senses while providing important skin care. The professional treatment masks are available in sensory-stimulating Matchafina, Chocofina, Berryfina and Vanillafina, and are complimented by our two at-home compliment treatments, the All Natural Face & Body Wash and the All Natural Face Moisturizer.
The response I received was overwhelming, with everyone applauding this as a return to more natural, gentle skin care that has real effect on the health of the skin. We couldn't agree more. In fact, our all natural organic powders are such a return to nature that they're edible!
Repêchage has always brought original concepts. Discussing originality and creativity, speaker Yolanda Amador also emphasized the importance on innovation and creating one-of-a-kind experiences which cannot be duplicated.  In our industry, we need to focus on offering quality, innovation, price-quality relations with fun and daring new options for people to explore. Yolanda embodies this concept with the success of her spas, which include Barber & Booze, a getaway for men where they are able to get groomed and enjoy a few rounds of hand-crafted cocktails, and Mamma Mia which makes the Facial Bar a family experience, letting mother & daughter be pampered together.
As you can see, while travelling may be exhausting, the take-aways, both from the audiences and myself, are always exhilarating! Where in the world will I be next? Stay tuned!
For more information about Repêchage education, visit: http://www.repechage.com/pages/lydia-sarfati-academy-calendar
For high resolution images, please contact Josie@repechage.com
Repêchage® is offered at top spas and resorts around the world
To locate a spa nearest you, log onto www.repechage.com or call 1-800-248-SKIN (7546).