Glamour Magazine Women of the Year 20th Anniversary Event Recap
I was fortunate to attend the Glamour Magazine Women of the Year Event last night marking 20 years of the celebration of inspiring women.  I always leave the event wanting to do more with my life, wanting to help more, do better in the world.  Hearing from dynamic women from Hollywood legends to political leaders to athletes is more than enough to get you off the couch after work and say "what more can I do today?"  Wow! If we all asked ourselves that everyday how much more productive would we all be.
Anyway, enough of the Tony Robbins talk, last night's event featured Hollywood stars including Julia Roberts, Kate Hudson and Hillary Swank; Music icons Fergie, Cher and Janet Jackson; TV big-wigs Oprah and Diane Sawyer; sports stars Lindsey Vonn, Mia Hamm and Lisa Leslie; fashion designer Donatella Versace; world leaders Her Majesty Queen Rania, President Ellen Johnson Sirleaf of Liberia, President Dalia Grybaukaite of Lithuania, Prime Minister Jadranka Kosor of Croatia, Prime Minister Iveta Radicova of Slovakia, Prime Minister Kamla Persad-Bissessar of Trinidad and Tobago, activist Constance McMillen, and those that just don't give up on their cause no matter how trying the circumstance Katie Spotz and Dr. Hawa Abdi and her Daughters of Somalia.
Through tears Fergie said "I am Woman Hear me Roar" and recognized her inner circle of women that have helped and supported her through the years while Cher humbly remarked that she only makes loads of money making people laugh (in reference to the 20 Glamour Young Women of the year recognized including Erika Alden Debenedictis who at the age of only 18 has already won Intel's Science Talent Search with her spacecraft-navigation system she designed).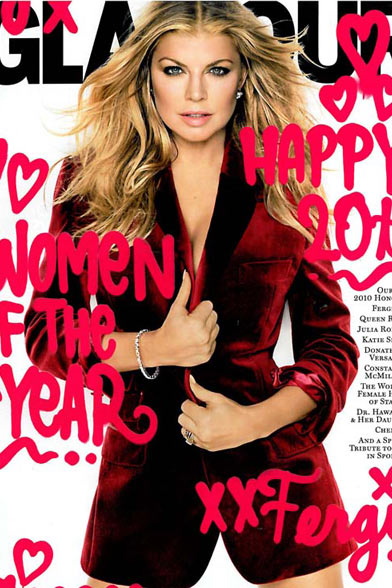 The women gave advice: "never take No! as an answer;" "Don't ever tuck your hair behind your ear – it never looks good" and "nothing is impossible, even holding this award in one hand!" The overall message of the evening is that women can do it all: have a successful career, have a family, stand up for her rights, and help others.
I know this first hand from my personal mentor, my mother, who truly taught me by example that women can do it all! My mother, who you all know as Lydia Sarfati, raised two women while running her own business.  People always ask other women how do they maintain a work-life balance? The women last night showed that it is indeed possible to run the world and their home! It just takes a little planning!
To win the official gift bag of last night's Glamour Magazine Women of the Year Award please post your comments (In this post, below) on who your "Woman of the Year" is and why! The most inspiring story will win this exclusive bag!!