Flower Power – Beneficial Botanical Skin Care Actives
April Showers bring May flowers! I can hardly believe May is here already, but I am excited to see the flowers at the Repêchage headquarters inSecaucus,NJstart to bloom. I love flowers and I always recommend having fresh arrangements in your spa or salon. They are beautiful, inviting, aromatic and they have the ability to transform a drab room into something special.
Although you are probably familiar with flowers ability to improve the esthetics of a room, you may not be as aware of their ability to improve the esthetics of the skin.  I am constantly on the lookout for the best ingredients the earth and sea have to offer and as powerful as they are beautiful, flowers provide an array of benefits for various skin types.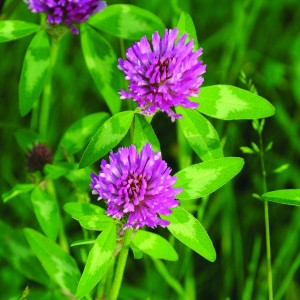 Red Clover 
As our lives change, so does our skin. Hormonal events such as pregnancy, menopause or aging can cause changes in skin thickness and moisture content, causing the skin to loose its youthful appearance. To help curb changes to your skin, you may not need to look any further than your garden. Red Clover, rich in plant hormones, is known to mimic a phytoestrogen hormone that helps stimulate skin thickness for the appearance of younger, plumper looking skin. In vivo clinical studies showed that Red Clover Isoflavons have the potential of reducing wrinkles by 37% in density and 20% in depth. When used in anti aging facial creams, this powerful blossom also helps to stimulate cell metabolism and increases protein synthesis by 99%.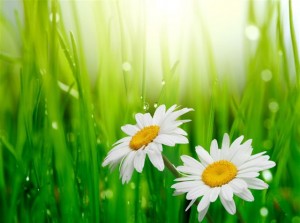 Bellis Daisy
At the moment, Bellis Daisy is my favorite botanical ingredient. Hormonal changes during our lives combined with summers spent in the sun can bring out hyper-pigmentation and sun damage in the skin. Today, we can help treat hyper-pigmentation with Bellis Daisy. It influences various pathways involved in melanogenesis by decreasing the production of Endothelin-1 (ET-1) it reduces the UV-stimulated induction of melanin biosynthesis. The binding affinity of melanocyte-stimulating hormone (alpha-MSH) to its receptor and tyrosinase activity is both down regulated. When used in skin brightening products this flower is actually able to help treat hyper-pigmentation before, during and after it occurs providing even-toning and reduction of the appearance of age spots.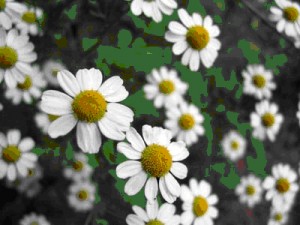 Chamomile
Chamomile has been used for centuries in teas for relaxation and as a treatment for fevers, colds, stomach ailments. Many of you probably already offer Chamomile tea in your spas, but what you may not have known, is that this tea is made from flower blossoms. Chamomile is an ideal ingredient to be used in skin care products to help treat various skin concerns such as acne, inflammation or irritation with its antiseptic and healing properties. Containing azulene, Chamomile is the perfect ingredient for a professional acne treatment to help reduce puffiness and cleanse pores of impurities. Chamomile also provides wound healing properties and is helps aid in cell regeneration which is helpful in treating acne, eczema, psoriasis, hypersensitive skin and allergic conditions.
It is amazing that such beautiful plants have the ability to help make our skin just as beautiful.  So next time you order flower arrangements for the spa, why not draw inspiration from the ingredients from the skin care you provide? That way when your client compliments them, you can tell them why you chose that particular flower!
What is your favorite botanical skin care ingredient? Tell me in the comments below!