FASHION MEETS BEAUTY AS REPẾCHAGE JOINS FASHION'S NIGHT OUT NY!
Thurday, September 8, 2011, NYC: Repêchage, leaders in seaweed based professional skincare and spa products, teamed up with Beyond 7, Showroom Seven's new retail concept, for New York's Fashion's Night Out! Kicking off the start of New York Fashion Week, the event ran from 6pm-10pm on Thursday, September 8, 2011.
This was the third year the fashion world celebrated a global after-hours shopping extravaganza called Fashion's Night Out (FNO). Over 1000 retailers opened their doors in NYC alone to participate in a night filled of shopping, sipping, and spa-ing (at Beyond7 at least)!!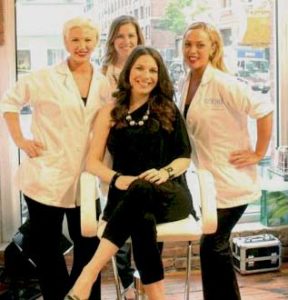 Flaunting the best-looking window display at FNO, the party included a night of fashion, cocktails, mini-cupcakes and Spa! Shiri Sarfati, VP of Repechage and Brady Halbert, PR Associate, along with Repêchage licensed estheticians debuted the New! Repêchage Biolight Collection (available this fall) and also administered the Repêchage Opti-Firm Eye Contour Treatment, Repêchage Seaweed On-the-Go Facial, and Repêchage Signature 4-Layer Facial right in the store window!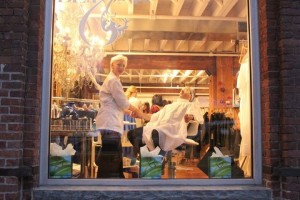 Fashionistas lined up for the perfect-prep for New York Fashion Week kick-off. After all, glowing skin is always the best accessory!