Exfoliation – Natural Chemical Peels for Your Spa Menu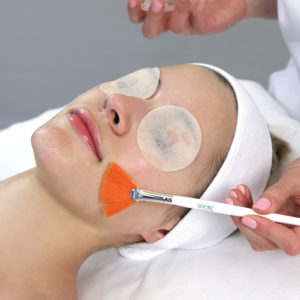 Our skin naturally sheds every 28 days. While skin exfoliation is a naturally occurring process, most skin types can stand some help.  For example, with age, this process slows which causes dull, tired looking skin. Oily skin tends to saturate dead skin cells and makes it difficult for these dead cells to fall off naturally.  Dry skin tends to let dead skin cells accumulate too quickly which can make skin look dry and dull. Most people's skin falls somewhere between these two skin types, but unless you have perfectly balanced skin (which is rare) some type of skin exfoliation can be very helpful.
The most important factor when considering various forms of chemical exfoliation is to consider the health of the skin's natural protective barrier.  By their nature, chemical peels are intrusive to the skin's protective barrier in varying degrees.  Over-aggressive exfoliation, or improperly performed chemical peels can cause more damage to the skin than good, and this damage can be permanent.  In all cases, proper consideration of the skin barrier restoration must be part of the protocol, using natural, non-sensitizing ingredients such as seaweed extracts, hyaluronic acid and anti-oxidants such as green tea.
The regular, proper use of exfoliants dissolves dead, flaky skin cells, improves skin texture and elasticity. If your skin is exfoliated, it's forced to reveal new fresh, healthy skin cells. Chemical peels can be an effective and safe method to achieve beautiful results for your clients, if they are done correctly. Skin exfoliation (especially facial exfoliation) will generally cause some mild irritation.  As an esthetician, you must be careful not to exfoliate excessively as it can cause skin that goes beyond irritated to inflamed, causing more damage to your client's skin. However, skin that is exfoliated properly can see a decrease in visible lines and creases as healthy skin cells are allowed to show through.
Mild Exfoliation – AHA's (Alpha Hydroxy Acids) and Multi-Fruit Acids
Mild exfoliation can be performed at-home and in the spa using a low percent of AHA's (Alpha Hydroxy Acids) such as glycolic acid, lactic, citric, tartaric, marine and fruit acids, like those found in our Rapidex Marine Exfoliator.  These exfoliators should have the optimum pH of 3.5 and no more than 8% acid, and should be buffered with anti-oxidant ingredients such as seaweed extract, chamomile and green tea.
Used in succession for up to 14 days, these can have a great effect on the skin, although they only work on the very upper layer of skin.  While not painful and having minimum side-effects, the results are not as long-lasting as professional or medical medium to deep peels.  However, this peel can be performed repeatedly, based on age and skin condition, for ongoing, consistent improvement of the appearance of facial skin.
Skin Types: All categories and, in general, any skin type, from normal to dry, combination to problem/oily skin.  Those with severe hypersensitivity or rosacea should use caution when using at-home mild exfoliating peels and follow a modified protocol (if provided) and/or consult with their skincare specialist.
Skin Concerns: Uneven skin tone, oily/acne build up.
Protocol:
At home: Use single dose applicators for controlled dispensing of formula and proper desquamation.  After nightly cleansing, apply evenly on the face, throat and or back of hands; or follow instructions of skincare specialist. Avoid the eye area and mucous membranes. Discard each applicator after single usage. Leave on overnight and rinse off in morning with regular cleansing.
In the spa: Remove the swab by squeezing the plastic tube at the indicator. Apply it in an upward motion evenly on the face, neck and décolleté area. Leave it on for 5-7 minutes. Remove it with water and cotton. Spray the skin with water or Repêchage Algo Mist Hydrating Seaweed Facial Spray.
Price:  Retail: $5 // At the spa: varies from $20 – $120
Client Downtime:  none
Contraindications: Hypersensitive or rosacea-prone skin should use a modified protocol, rinsing off after three to five minutes.
Mild Peels – Proteolytic Enzymes
Enzymatic exfoliation stays on the surface of the skin, helping to remove the dead skin cells. Our Repêchage Vita Cura® Enzymatic Micropeel is based on papain, the proteolytic enzyme derived from the latex of the green papaya fruit, this exfoliant gently removes uneven old squames, revealing brighter, younger looking skin. (This product is for in salon use only and must be applied by a licensed skincare specialist.)
Skin Types:  Recommended for all skin types in need of exfoliation, even sensitive skin. Can also be used on hands and feet.
Skin concerns: This kind of chemical peel is particularly effective for those with mature or sensitive skin types.
Protocol:  Protect client's eye area with soothing eye pads infused with seaweed and green tea. Do not use a steamer with this treatment — high temperatures will deactivate the enzymes.  Pour peel formula into a glass bowl and, using a brush, apply evenly on the face in upwards and outward motions. Use a hydrating mist rich in seaweed extracts and aloe to keep the treatment moist. Leave on 5-7 minutes while continuing to hydrate and cool with a hydrating mist. If the client experiences any type of tingling or burning sensation, you may use a small fan to cool them. After 5-7 minutes, remove with damp cotton. Blot the skin dry with medical grade tissue. This treatment can be augmented by the application of a soothing, seaweed-based mask to help improve the appearance of sensitive skin and restore the skin's moisture barrier.
Price of Treatment:  $50-$150
Client Downtime:  none
Contraindications:  none
Mild Peels – Glycolic Acid Peels
Glycolic acid is an AHA (Alpha Hydroxy Acid) that occurs naturally in the sugar cane. Glycolic Acid works by exfoliating the surface layers of the skin, revealing a brighter looking complexion. Glycolic acids can be safe and effective when they are used in a seaweed base, which is how our Repêchage Biolight™ Glyco-Sea Glycolic Peel* is formulated.  (This product is for in salon use only and must be applied by a licensed skincare specialist.)
Skin Types:  All skin types, except hypersensitive/rosacea prone skin
Skin concerns:  Dry, dehydrated, sun damaged/mature, uneven skin tone.
Protocol:  For in salon use only.  To reduce possibility of irritation, use a formula with 30% Glycolic acid with a pH of 3.5.  Place soothing green tea eye pads over the eyes, taking care to cover the eyebrows. Wearing gloves, apply peel evenly on the face and neck and, if desired, on décolleté area.  Leave it on for 2-7 minutes. Remove thoroughly by rinsing off with cotton saturated with water.
Price of Treatment: $75-$159
Always be sure to read product label in order to determine whether there are any contraindications.  Typically, these include pregnancy or breast feeding, rosacea, allergy to aspirin or salicylic acid, open lesions thin, highly sensitive skin, taking Accutane, Herpes Simplex in active stage, Atopic dermatitis, Chronic urticaria (hives), somatic diseases in an acute stage including SARS, recently had depilatory waxing or laser hair removal.
*The Repêchage Biolight Glyco-Sea Glycolic Peel is not intended to treat, diagnose, cure or prevent any disease.
This blog is for informational purposes only and is not intended as medical advice, diagnosis or treatment.  Always seek the advice of your doctor or health provider with any questions or concerns you have about a medical condition.