January Spa Treatments & Promotions to Get Your Clients Looking Fitter, Healthier & Glowing!
New Year! New Decade! New You! Get your clients back in the spa with great detox packages and winter skin care that will have them glowing from head to toe!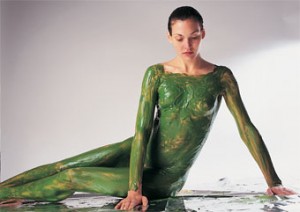 1. Come January 1, clients are looking to detox after the Holiday over indulgence and get back into shape. How can spas offer "detox" treatments and what do they do?

One word: Seaweed!!! Glucuronic acid in seaweed binds with heavy metals to help the body eliminate them.  In addition, seaweed is a free radical scavenger.  The Repêchage Thalassotherapy Seaweed Body Treatment is based on European Thalassotherapy or seawater therapy.  Fresh seaweed is warmed to body temperature and then smoothed over the body.  Then a warm thermal blanket is wrapped around to help relieve stress and invigorate sore, stiff muscles while detoxifying the body.  A shower completes the experience…leaving you feeling newly recharged and balanced.
For at home care:
The new Sea Spa Bubble Bath (coming soon) brings the benefits of thalassotherapy to one's own tub.  Also helps to improve circulation as well as sooth muscle fatigue and detoxify the body.
2. What treatments are particularly appropriate for the new year?
The Repechage Vita Cura™ 5 Phase Firming Facial for younger looking skin.  This facial is based on our exclusive combination of natural marine and herbal ingredients to invigorate, lift, and firm mature skin. Each of the 5 phases of the facial play a significant role in providing advanced skin repair and together are truly an alternative to surgical rejuvenation.  Elements of our treatment are also available as at-home care products for continued benefits.
In addition, during the winter months, our skin tends to be extremely dry.  So many clients are looking for facial & body treatments, as well as hand treatments that add moisture to their skin.  We recommend a skin smoothing treatment such as Repêchage Pomegranate Cran-Apple All Over Body Scrub to slough off dead skin cells while hydrating and moisturizing dehydrated skin.
4. What alternative therapies tie-in well with January packages, and why?
Repêchage® Hydra Dew Express Lift Moisture Mask facial provides immediate, 100% in-depth moisturization and superior anti-oxidant protection as well as providing skin smoothing benefits.  Boosts moisture content while combating hyper-pigmentations and wrinkles.
5. What should spas recommend after treatments?

Spas should be operating at a 50-50 retail to service ratio to continue the benefits of the spa treatment as well as increase client retention.  Repêchage® has created at-home products to compliment each professional service. The at-home care for our Hydra Dew Express Lift Treatment includes great starter kits such as Hydra Dew Travel Collection and Hydra Dew Retail Collection!
6. How would you suggest spas/salons promote these treatments and packages?
Treatments and packages can be promoted through good marketing and public relations.  At Repêchage we have the Spa de Beauté concept. The Spa de Beauté is a unique business opportunity offering new or existing spas access to Repêchage expertise in spa management, marketing, public relations and education.
In addition, we always create bi-monthly promotions with a focus on treatment and corresponding at-home care, Gift with Purchase and Purchase with Purchase promotions that spas may pass on the savings to their clients. A fantastic idea is to provide clients with "A Gift with Experience" – give your client an at-home care product FREE after the service. It's a perfect way to introduce your clients to the product and increase benefits of their service at-home.
Lastly, my Facial Bar concept is the perfect way for your clients to experience spa services in a quick, easy and convenient way and to recommend to them at-home care products to continue the benefits! Remember: Show & Tell & You will Sell!