Curacao Welcomes Repêchage® Hydra-Amino18TM Hair Spa Collection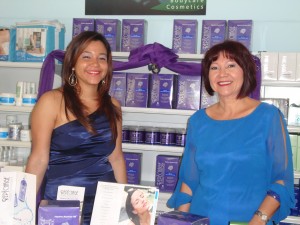 (From left to Right: Indira van Uyten and Marlene Lopez Romero of Frainmar Agencies N.V.)
November, 2012, Curacao – Frainmar Agencies N.V. launched the latest professional treatment and collection from Repêchage – Hydra-Amino18® Hair Spa to the Caribbean. Estheticians and stylists attended the event, which focused on product knowledge, the new treatment, business strategy and retail techniques.
Frainmar Agencies N.V. has been distributing Repêchage professional products to Curacao, Aruba and Bonaire for over four years. "It was a great pleasure introducing our latest hair treatment – the Repêchage Hydra-Amino18® Collection. We are true believers in Repêchage and we know that this treatment and collection are going to be a perfect fit in our market," said Marlene Lopez Romero, Owner of Frainmar Agencies N.V.
With its exquisite beaches and culture, the Caribbean's best kept secret is quickly becoming the talk of the town. As an up and coming vacationer's paradise, Curaçao's spa business is subsequently booming and the demand for spa-quality products is increasing.
For more information on Repêchage go to www.repechage.com or call 1800-248-7546.