Canyon Falls Spa & Salon Launches Repêchage Professional Skincare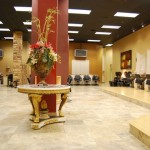 (Canyon Falls spacious and luxurious salon)
June 2013, Scottsdale Arizona – Canyon Falls Spa & Salon has taken its spa it to the next level by selecting Repêchage products and treatments to provide their clients with exceptional skincare services.
CanyonFalls Spa & Salon's dedication to providing the most luxurious services with the best results to their clients makes Repêchage skincare the ideal fit for the location. "We were looking for a skincare line that is natural-based with a long track record of research and proven results, in conjunction with local support and education and Repêchage was able to met our needs perfectly," said Amanda Laraway, Canyon Falls Spa & Salon Manager.
In business since December 2004, Canyon Falls Spa & Salons offers clients a range of services including hair design, cut & color, hair extensions, skin care, waxing, make- up, massage and nails. The spa and salon is a one stop shop for the whole family's beauty needs, with a fish themed kid's salon right on the premises! The location also houses a clothing and accessory boutique. CanyonFalls Spa & Salon prides itself on providing their clients with a high end salon and spa experience through their innovative beauty techniques and relaxing environment and boosts nine beautiful treatment rooms. The Arizona community has taken notice of this premiere beauty location, being named the Top Salon, Top Place to be Pampered, and the Top Place for a Manicure and Pedicure by the Scottsdale Airpark News numerous times.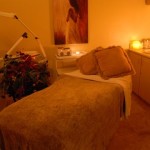 (One of the tranquil treatment rooms at Canyon Falls Spa & Salon)
The skincare professionals at Canyon Falls Spa & Salon offer complimentary skin analysis. After an analysis, clients at the Scottsdale location can now select a service from a variety of Repêchage professional treatments including the Four-Layer Facial®, Vita Cura® 5 Phase Firming Facial, Hydra Medic® Acne Facial Treatment, Seaweed Facial Treatment, and Opti Firm® Eye Contour Treatment.