Success Story: Body Sense Day Spa Owner Kelly White Shares Spa Marketing Tips and How She Got Started in The Industry

In this Success Story, we explore Kelly White's (owner of Body Sense Day Spa in Cape Cod, Massachusetts – a Rep ê chage Spa de Beauté Concept Spa) rise to the top. Blending her love for the industry with her business-savvy-side, Kelly has now successfully run her own Day Spa for five years and counting. Find out how her journey led her to running a successful Day Spa, staying competitive, and ready to take on what's next!
Repêchage: How did you get started in this industry?
Kelly White: Way back in high school, when you had to make your choices with what you want to do with the rest of your life, I decided to go to the tech school in my high school.  I worked as a nail technician in Long Island, NY and then decided to get my associates in business at the local community college. After I received my degree I was working seven days a week and I wasn't making any money. I decided to get back into the nail business and I think I made more my first day at the nail salon than I had made in an entire week as a administrative assistant.
Repêchage: When did you decide that you wanted to open your own spa, have you always been located in Cape Cod?
Kelly White: I am from Long Island, but when my sister got a job at Bloomingdales in Cape Cod I decided to come along, we used to vacation there when I was younger and I love the area.
Repêchage: How did decide that you needed to own your own spa?
Kelly White: When we first moved to Cape Cod, I was working in retail at Bloomingdale's where my sister worked. One of the girls in jewelry knew that I had been a nail technician prior, and mentioned that they were looking for a nail tech. Within six months, the owner saw what a go-getter I was and made me a partner. I then realized that I could never work for anybody else. I went from nails, then to a subcontractor at a series of spas, and then the spa I was working at was looking to sell. The previous owner wasn't the best manager and so even though I was subcontracting, I was basically running the place. The new owner wasn't looking for that. So, I was driving around and I found the space that we are at now. I started with a staff of just me and now I have seven girls.
Repêchage: What are some of your marketing tactics for bringing in new clients and returning clients?
Kelly White: I hired a local business to manage my software package. They take care of my website and keep everything up-to-date. I also use referral cards. If a existing customer refers someone new they get 20% off their next purchase. We also do loyalty cards, these cute little key tags, we keep track of the dollars spent and visits so every quarter the clients are rewarded dependent of what they spend. We also send a newsletter each month. But the most important thing, is always word of mouth.
Repêchage: I noticed on your website that you offer a special de jour! What have been some of your most successful promotions and why?
Kelly White: I would have to say it was the mini services promotions that we did two years ago targeting the locals here. We are going to do it again in September. It is like an appetizer for everything we do here. The object is, they come in for a mini facial, a mini manicure or pedicure, or a massage and it is the technicians object to upgrade them to the full service.
Repêchage: You are a 2009 Repêchage Spa de Beauté Award winner and have submitted again this year, good luck! How do you think Body Sense stands out against other spas?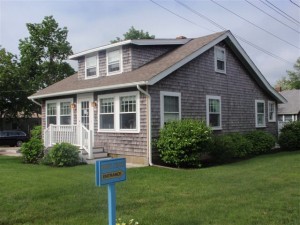 Kelly White: Education is so important it never ends. Right now I am in a Podiatry program and hope to continue my education throughout 2011. You just have to keep up and be educated in this business. At Body Sense we also like to really get involved with the local community. We do a lot of charitable work and we really just try and get out and support everything going on. Also, our customer service is outstanding, like I said before word of mouth is the best way to attract new clients so our customer service really has to stand out. Also, sanitation, sterilization, and disinfecting. We are the cleanest spa in Cape Cod; you could eat off of my floor. I am a fanatic about it and this place is spotless. It is scary to me that people would compromise health over price. I think now consumers are more educated, but we still have a long way to go.
Repêchage: What lies ahead for you and Body Sense?
Kelly White: Growing, possibly opening another location. I would love to get my daughter in this business, she is 8 years old and she already wants to work with mommy. Sometimes I let her answer the phone. That would be so exciting, kind of like Lydia and Shiri, passing it down!
Repêchage: Are you able to maintain balance between owning a spa and having a personal life? What do you like to do in your free time?
Kelly White: It's not easy. I have two kids, eight and ten, and it isn't easy. I have two days off a week. Last week I took my kids to our property on the water for the day and I made them dinner. We were there until 10 o'clock at night. The time we get to spend together is very special to me. Whether it be day trips or what have you, we make the most of it. I also have a very supportive husband. I am here a majority of the time. We just keep growing and moving. I also try to fit in some exercise and mediation.
Repêchage: What is your personal beauty regimen?
Kelly White: I only use Repêchage. I have been with the company 15 years now. I will not use anything else and I say that to my clients too. I am having a very big birthday this weekend and no one believes me when I tell them how old I am. I have to really believe in the product I can't just sell anything.  I use all Vita Cura and some of the cell renewal. I love it!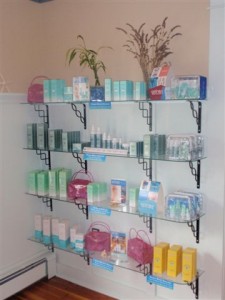 Repêchage: As well as a licensed aesthetician and make-up artist, you are also a nail technician. What do you think the hottest trend in nail polish will be this summer? What do you think the most popular facial will be?
Kelly White: I have a more conservative clientele so the french manicure is the most popular always, but other than that, I'm going to say hot pink.
As to the most popular facial I'm thinking for oily skin, the Hydra Refine Pore Perfecting Facial, can I say another one too? I think the Vita Cura 5 Phase Firming Facial will be very popular here as well.
Repêchage: You do a lot of events at Body Sense, what have been some of your more interesting or more successful events?
Kelly White: Every quarter we do events and the community likes to come and support. We do our anniversary party in October, then a Christmas at the beginning at December, a Valentine's Day event, and then one for Mother's Day. The events usually attract anywhere from 30-50 people and they are very successful. We offer 20% off all appointments and retail purchased that night. People like a party, especially in Cape Cod. I have to say my anniversary party is my favorite event, it was a big leap for me, I am just so proud of myself! What's happening now is awesome, it's nice to stand back and look. Definitely a lot of sacrifices but it was all worth it.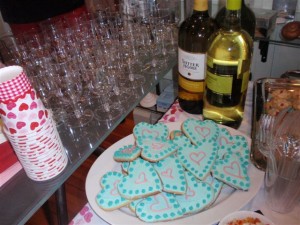 Repêchage: Do you have any upcoming events that you would like to share?
Kelly White: Our six year anniversary party will be our next event! It is going to be on October 6, 2011. How funny! Our six year anniversary party is going to be on the 6th!
Call (508) 775-7546 to book an appointment today or check out their website www.bodysensebeautyclinic.com !