Benefits of Thalassotherapy in Your Spa
Bathing in seawater is a tradition with a rich history throughout the world. For thousands of years, people all over the world including Japan, Italy, Budapest and Greece have sought out the therapeutic benefits of sea water therapy. Thalassotherapy, stemming from the Greek word for sea, thalassos, is a term coined to describe the usage of sea water for therapeutic purposes and preventative measures based on the belief that immersion in sea water revitalizes, heals and cleanses the system.
I personally grew up with the European tradition of going to a spa, which meant a place to "take in the waters." Bathing was a part of my heritage and culture. Today, I still take a nightly bath for 10-15 minutes and I brought the traditions of Thalassotherapy with me to theUSwhen I moved here.  I believe it is important to steal these 15 minutes a day to soak in a bath. I know it makes me feel better – and it will make your clients feel better too!
(LeBretagne,Thailand)
Today, thalassotherapy still provides the same fantastic benefits but now we are able to create a more professional, and clinically proven, experience for our clients. A milestone in the evolution of bathing came in 1970, when Roy Jacuzzi unveiled the Whirlpool Spa. Since that time, recreating the "spa," at home has developed the opportunity for a niche market of companies attempting to recreate the feel, the benefits and the aesthetic of a traditional spa on a smaller scale. You can create a wonderful, thalasso treatment for your clients with a seaweed bath or mineral bath salts and a whirlpool in your spa.
Seaweed: Seaweed is a concentration of sea water and provides the body and skin with a wealth of benefits. Seaweed suffers no deficiencies and is rich in the 12 vitamins and minerals, 18 amino acids and 42 trace elements that the body needs to maintain proper balance and function. Plus there are seaweeds for every ailment – seaweeds are hydrating, healing, detoxifying, restorative, anti-aging and can even help prevent and treat acne. Seaweed can also aid in cell proliferation due to its high level of antioxidants. Remember—if your clients love swimming in the ocean, seaweed is a perfect ingredient for them.
Sea Salts: As a bath aid, sea salt it is known for its ability to relieve muscle tension and aches, providing body detoxification and toning benefits. As an exfoliant or body scrub, sea salt also helps to remove dead skin cells helping t smooth and soften the skin.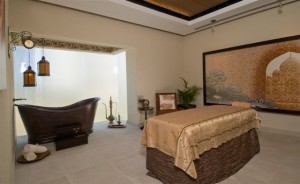 (Treatment Room with Bath at Melange World Spa, Mexico)
Don't have the budget or space for a Whirlpool in your spa? That doesn't mean you can't deliver the benefits of the sea to your clients. Today, there are professional seaweed body treatments that do not require the use of the bath or shower.
Do you allow your clients to experience the benefits of Thalassotherapy in your spa? Tell us in the comments below!