Anti-Aging Solutions for the Neck, Décolleté and Hands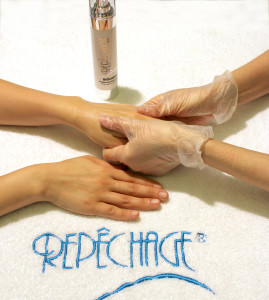 We recently held the Repêchage 15th International Congress For Salon and Spa Professionals and as I prepared myself for my presentation I assessed the beauty industry and analyzed the most important trends for spas and salons. One of the biggest trends is the rising concern of the appearance and health of skin from the neck down.
According to the International Labour Office data, 2012, Baby Boomer women (over 45) found that two of their biggest beauty concerns are age spots and uneven skin tone. And as many women have spent too many years and hours in the sun these concerns go farther than the face, they are all over the body. The hands and décolleté in particular are two of the most exposed areas of the body which makes them highly susceptible to the elements and the damage they can cause. For clients that are looking to improve the quality of their skin beyond their face you should be offering an all over body product and a treatment to help target anti-aging.
At our congress we launched our brand new Repêchage Biolight™ Brightening Body Corrector, which is the ideal product to bring into your salon or spa to use on clients looking to for anti-aging benefits for their entire body. It uses beautiful ingredients such as Goto Kola, Licorice Root, Willow Bark Extract, Bellis Daisy, Watermelon Extract and Kojic Acid. I launched this product just as clients will be looking for post summer sun skin solutions and the body corrector's ability to help reduce hyperpigmentation caused from too much sun exposure is a great marketing opportunity. You can create a display of the body correctors in the front of your spa or salon with signage detailing the post summer and anti-aging benefits of the product. Provide detailed information on the ingredients as many clients may be new to brightening products. This power-packed cream can also be marketed as part of a "back-to-school" package of products so while moms are preparing the kids to get back to school they can treat themselves and pick up their Fall skincare essentials and this product should certainly be one of them.
You can introduce this product into your location by using it at all of your manicure and pedicure stations. You can also include it in your body treatments where you would normally use another body cream. Your clients will notice a huge difference in their skin which opens the door to sell them the product for at-home use. To continue promoting this product through your spa service, don't stop at incorporating the Repêchage Biolight™ Brightening Body Corrector into pre-existing treatments; you can introduce brand new treatments that showcase its benefits. Check back next week as I'll be sharing the step-by-step procedure for an anti-aging hand treatment that uses the body corrector and will be a perfect addition to your spa or salon menu this Fall.
Where do you notice hyper pigmentation on your clients? Tell me in the comments below!