Anthony P. Scott and Company Limited Launches New! Repechage Biolight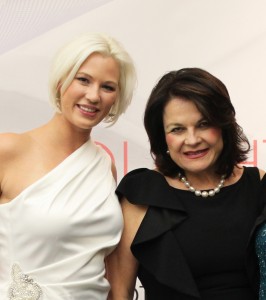 (from right to left: Lydia Sarfati, CEO/ Founder Repechage and
Lauren Streeter, Corporate Educator)
Monday, October 10, 2011– Anthony P. Scott and Company Limited welcomed Repêchage CEO and Founder, Lydia Sarfati, for a special presentation of the New! Repêchage Biolight Collection at the Hyatt in Trinidad and Tobago.
For over 30 years, Anthony P. Scott and Company Limited has been a Marketing and Distribution company in Trinidad. Pioneered by the husband and wife team of Anthony and Germaine Scott, APSCO started as a two person operation with one van and door to door sales. Today, APSCO is operated by Anthony and Germaine's five children Graham, Bernadette, Johnny, Daniel and Gregory. They provide a range of quality and innovative products, including the professional skin care company Repêchage, which helps enhance the lives of consumers in Trinidad.
Sarfati revealed the breakthrough skincare science behind the new range to salon and spa professionals and local press while Repêchage Educator of the Year Award Winner, Lauren Streeter, administered a special demonstration of the New! Repêchage Biolight Miracle Facial with Glyco-Sea Glycolic Peel.
"As usual, Repechage delivers cutting edge new products that really work! Congrats to Lydia and the team for another innovative launch!" said Daniel Scott, Managing Director and Owner of Anthony P. Scott and Company Limited. Also in attendance were Anthony P. Scott and Company Limited Educator Wendy Lynch, photographer David Wears and members of the editorial staff from Caribbean Belle Magazine.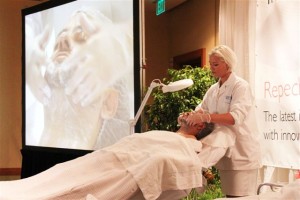 Following the launch, Anthony P. Scott and Company Limited held a 2-Day Education Program instructed by Repêchage Educator, Neisha De Freitas, on the proper Repêchage skin care techniques and protocols.
"The launch of Repêchage Biolight Professional Treatment and Collection in Trinidad and Tobago was very successful. I had the opportunity to meet many wonderful professionals and I look forward to my next visit" said Sarfati of the launch.
For more information on Repêchage visit www.repechage.com or call 1-800-248-SKIN(7546).
For a high resolution picture, please contact Brady@repechage.com