America's Beauty Show and Face & Body Midwest with Repêchage and FaceLuXe
This year at America's Beauty Show, we were pleased to be  a part of the launch of a new concept: FaceLuXe, exclusively Repêchage. This collaboration with FaceLuXe CEO Todd Beckman, will take Facial Bar nationwide by bringing affordable and convenient skin care treatments to the next generation consumer-and ABS attendees were the first to experience it. Estheticians in white lab coats providing signature Repêchage treatments in Lydia Sarfati chairs by Belvedere made the FaceLuXe concept salon the chic centerpiece of ABS. For more information and franchising opportunities call FaceLuXe directly at 877-321-5893.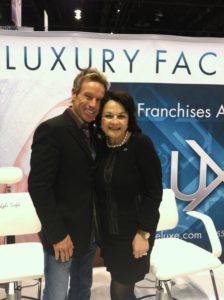 With Todd Beckman, CEO of FaceLuXe. Photo courtesy of FaceLuXe.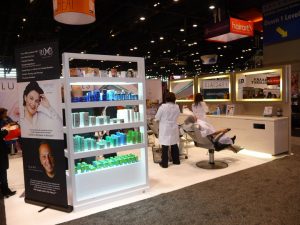 C-H-I-C! Photo courtesy of Madelyn Alexander & Leon Alexander of Eurisko.
The show was non-stop as I ran between the ABS FaceLuXe Booth and Repêchage Booth on the Face & Body side. In addition, I taught advanced education classes at the show! On Saturday, I presented an in depth look at factors influencing aging, with a demonstration of the Vita Cura 5 Phase Firming Facial, and on Monday I presented a spa business class: "Show & Tell and You Will Sell." At this class, I was able to give knowledgeable beauty pros my insider tips on generating greater revenue. Additionally, Monday morning I was proud to be a part of the first Beauty Changes Lives segment hosted by Ted Gibson at America's Beauty Show. It was inspirational. Ted has set out on a mission to show the world that the beauty industry is more than just an image of a high school dropout. I was honored to be part of this very successful group of beauty school graduates and to inspire over 500 future professionals.
ABS also hosted a High Tea with Lois Christie, President of Intercoiffure North America and owner of Christie & Co. Salon ۰ Spa, and I. It was a nice reprieve to the hustle and bustle of the show floor. We were able to reach out and change the lives of salon and spa owners looking to stay ahead of the industry and generate greater revenue by providing what the consumer is looking for—quick, results-oriented treatments and customized service!
Early Monday morning, Chicago woke up to Shiri Sarfati, Executive Vice President of Repêchage, who was featured on the Channel 9 News as reporter Ana Belaval wore the fourth layer mineral mask of the Repêchage Four Layer Facial and learned the wonderful benefits of the heated mask and the full facial treatment. She also received amazing hand and foot treatments featuring Repêchage Pomegranate CranApple All Over Body Scrub (so natural she even licked it off her hand!) and new Kanshi Mango Hand & Body Scrub.
There is so much more to come! If you are in the Secaucus, NJ area, I invite you to join me March 21-23 for a three day Master Class for hands on workshops and more! If you are in the Miami, FL area, catch us at The International Congress of Esthetics and Spa April 3-4, booth 706 at the Miami Beach Convention Center.