Macho, Macho Man! Repêchage Launches at Man Cave to Give Men a "Manly" Makeover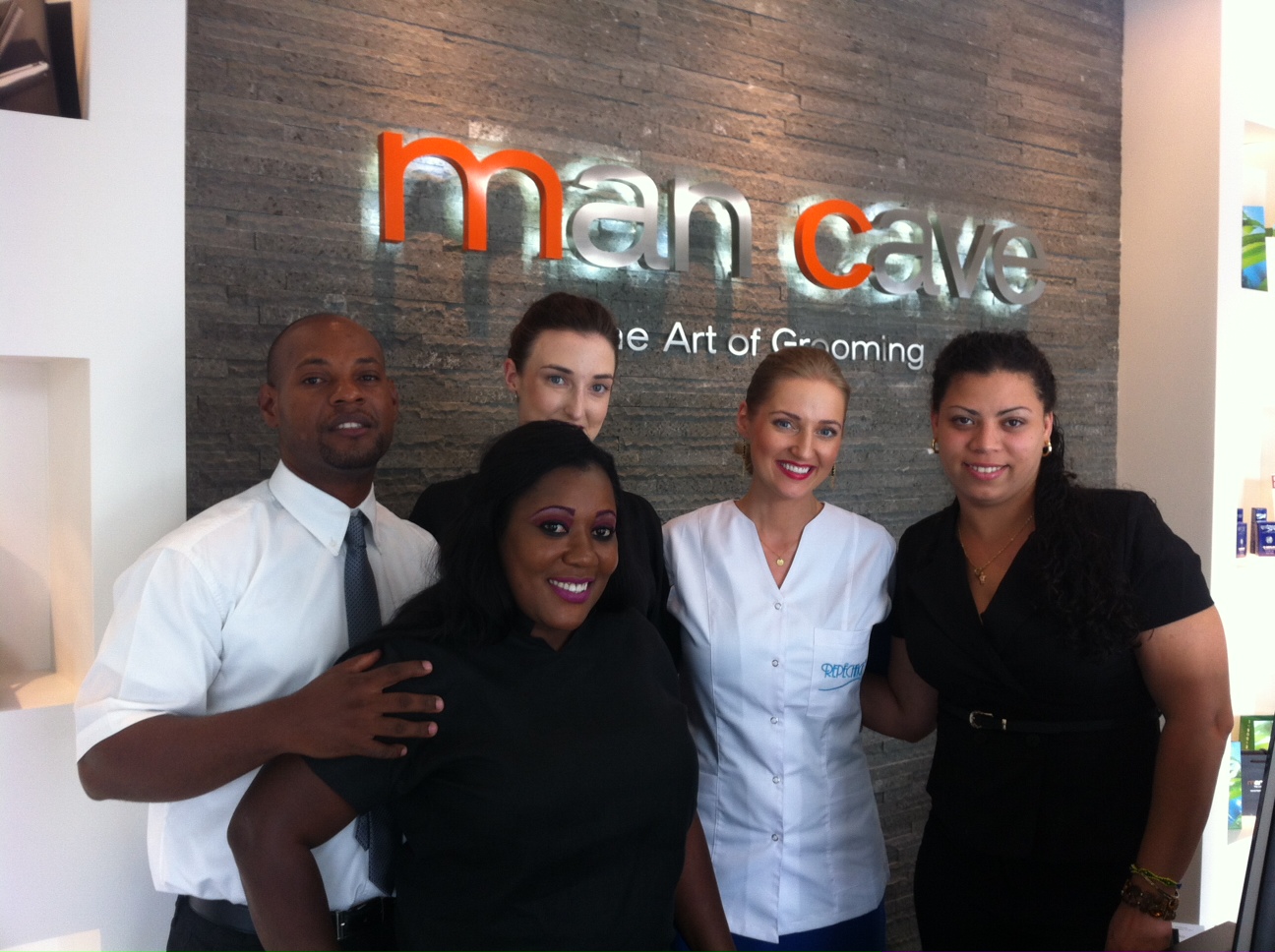 (Repêchage Corporate Educator Natalie Otto (center) with the team at Man Cave)
June 2014, Man Cave, Grand Cayman – Repêchage Corporate Educator Natalie Otto joined the team at Man Cave, the newest business in Grand Cayman to offer grooming services exclusively for men, for the grand opening and launch of Repêchage professional skincare products and treatments.
Over 100 guests attended the opening of this brand new business, and Repêchage was there to help celebrate. Natalie Otto joined Man Cave and helped train employees on how to utilize Repêchage products and protocols specifically for male services.
One treatment demonstrated by Otto was the Repêchage Opti-Firm® Eye Contour Treatment. Perfect for the male client – it an express treatment that still yields great results, as it helps to diminish puffiness, dark circles, fine lines and wrinkles. The Repêchage Lamina Lift™ Mask was also demonstrated. The soothing and hydrating properties of this treatment make it ideal for those living in the hot climate of the Cayman Islands. Their easy application, express results, and ability to be done right at the barber chair, made both these treatments a hit and the perfect fit for Man Cave!
Aside from skin care, Man Cave offers an extensive list of services that cater to the male client including shave care, hair care, body care, hands & feet care, and manscaping.  So that each man who visits Man Cave will walk out with skin as dapper as Don Draper, Man Cave has also added the Repêchage Biolight™ Miracle Facial with Glyco-Sea Glycolic Peel, Vita Cura® 5 Phase Firming Facial and Hydra Medic® Facial for Problem Skin to their skin care service menu.
For more information about Man Cave please visit www.mancavecayman.com
Repêchage® is offered at top spas and resorts around the world. To locate a spa nearest you, log onto www.repechage.com or call 1-800-248-SKIN(7546).
For a high resolution image, please contact Josie@repechage.com